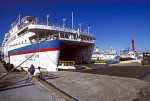 When Discovery returns from dry dock on September 16, it will be operating with a new schedule.
The vessel will remain on dry dock from September 8 – 15.
Yanick Toussaint, Discovery Cruise Line's island representative explained that the present schedule has been beneficial to the company, but it has been too much of a hassle for the cruise passengers.
She noted that the current departure time of 6:00 from Grand Bahama makes the arrival time into Port Everglades too late.
When the ship gets in, sometimes after 12:00pm, immigration officers at the terminal have already been reduced to three persons which makes for a very long debarkation process.
Sometimes people are at the terminal until 2:00am in the morning Toussaint said, waiting to be processed.
"To have people leave the terminal at 2:00am, is really crazy," she said.
According to Toussaint the initial time change was done as a manoeuvre to attract more same day passengers to the ship.
Potential clients felt that going on a one day cruise was not worth waking up at 5 o'clock in the morning, but the time change helped to boost the number of same day passengers Discovery brought to the island.
"It worked out very well," Toussaint said. "The count of round trip same day passengers tripled."
While it was a smart marketing tactic on some fronts, the new schedule also had its weaknesses Toussaint acknowledged.
She explained that same day passengers and Bahamians were not too pleased with the long wait it took to get off the ship once it arrived at Port Everglades.
"If we arrive late, everybody has a rough time and they swear that they'll never come back on Discovery, so this adjustment is going to be made," Toussaint said.
With the present schedule, the terminal doors in Port Everglades close at 8:45 a.m. and departure is at 10:00 a.m.
The new schedule will see doors closing promptly at 8:00am with departure at 9:30am.
Terminal doors in Grand Bahama will also close earlier changing from 4:45pm to 4:00pm.
The ship will set sale promptly at 5:15 p.m. and is expected to arrive at port Everglades at 10:30pm.
Toussaint noted that the new sailing times will make travelling much easier on passengers as the ship will get in much earlier.
"That gives us enough time to arrive in Port Everglades at a decent time," she noted. "Our passengers and guests won't have to suffer through hours of being processed through immigration because there are only three officers available."
By CLEOPATRA MURPHY
Freeport News Reporter