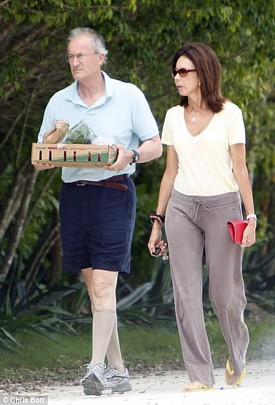 Engrossed in conversation and without a care in the world, this is the Queen's cousin Lord Brabourne and his new fashion designer girlfriend Lady Nuttall pictured together for the first time in the sun-kissed Bahamas.
Last week, it was revealed how Lord Brabourne, the 62-year-old 8th Baron of Brabourne and heir to the Mountbatten dynasty, had left his wife of 30 years and their 5,000-acre estate, Broadlands, to start a new life in the Bahamas.
Lord Brabourne is now happily living with Eugenie Nuttall, the 58-year-old widow of former Guards officer and tax exile Sir Nicholas Nuttall.
Lord Brabourne's wife Penelope, 57, who is Prince Philip's friend and regular carriage-driving companion, told her staff this summer that Lord Brabourne had left the country and she would be running the estate alone.