Four Grand Bahamians were presented with cheques for $750 each from the Bahamian Brewery and Beverage Company.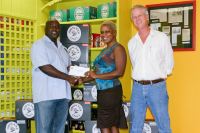 Back in September of 2006, the one and only Bahamian Brewery launched its "Name that Beer" competition, allowing Grand Bahamians the opportunity to name the beers that were to be produced at the brewery.
At the time James 'Jimmy' Sands, CEO of Bahamian Brewery and Beverage Co., said he would reward the winning names for two beers. He closed the competition for entry submissions November 2006 with 3,798 names entered.
The brewery announced the first of the two winning names in late 2006 with "SANDS" chosen as the first beer, with 14 winners. The second name "HIGH ROCK" was chosen, and two winners were rewarded with a cash prize in June 2007. Both beers have been tremendously successful, with High Rock receiving the distinguished Monde Selection Gold this May 2010.
"The second beer that we produced here at the brewery was Strong Back, which launched in late 2008 and is our stout beer," noted Sands. "At the time of the competition our rules stated that all names entered would be property of the Brewery but we agreed that any name used would be rewarded too."
The Strong Back name was actually entered by four Grand Bahamians who will now split the $3,000 prize, giving them $750 each. The four winners are Elizabeth Sears, Vashti Maycock, Shervonne Knowles and Donald Henderson.
"This could not have come at a better time for me," said Maycock, "I'm building a house and every extra penny makes such a huge difference … I am thrilled and so thankful!"
Knowles, an airport worker, was also excited to win some much-needed money. "It was quite awhile ago when I entered the name. It's funny, I drink Strong Back but I didn't remember entering that actual name," she said. "This will help me pay some of the bills and I am very thankful to the brewery for rewarding me for this!"
The brewery currently produces four beers – Sands, Sands Light, Strong Back and High Rock Larger. The fourth beer product, Sands Light, launched in 2009, was never submitted by any of the competitors in the "Name that Beer" promotion. "This one will have to go to us," laughed Sands, who has seen his brewery climb from strength to strength.
"It's thanks to Grand Bahamians that our beer has been accepted and become so very popular throughout The Bahamas," said CEO Sands. "Now we can all truly say that our only Bahamian Brewery is owned by Bahamians, brewed by Bahamians and named by Bahamians!" Something both he and the island seem very proud of.
Grand Bahama's "Truly Bahamian" brewery opened in 2007 with the launch of its first beer SANDS. The 20-acre brewery is located at the intersection of Queen's Highway and Grand Bahama Way and is a 100 percent Bahamian owned business. The brewery also produces Triple B, a natural malt drink, as well as STRONG BACK, SANDS LIGHT and HIGH ROCK. Bahamian Brewery and Beverage team currently employs just over 60 staff and expanded its operation into Nassau in 2008, opening a capital-based distribution centre at Kelly's Liquor Store on Wulff Road. All Bahamian Brewery & Beverage products are also available at Bristol Wines & Spirits locations, Simms Brothers, Jimmy's Liquor Store and truly Bahamian restaurants and bar locations.
Source: Freeport News