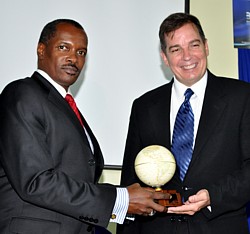 FREEPORT, G.B. – Education Minister, the Hon. Desmond Bannister officially welcomed Bakke Graduate University to The Bahamas on Saturday, September 25.
The launching of Bakke University Graduate degree programmes in The Bahamas took place during a special reception at the Captain's Charthouse Restaurant in Freeport, Grand Bahama.
Also joining Mr. Bannister for the occasion was the Minister of Housing, the Hon. A. Kenneth Russell and the Minister of State for Finance and the Public Service, the Hon. Zhivargo Laing.
A number of senior officials from Bakke Graduate University also attended the launching, including the University's president, Brad Smith, who took note of the economic conditions being experienced worldwide and in The Bahamas, in offering some $1.8 million in scholarships to Bahamians.
The University will be offering a Master of Arts in Social and Civic Entrepreneurship programme and a Doctor of Ministry in Transformational Leadership the Global City. Bakke is fully accredited by the Transnational Association of Christian Colleges and Schools, and is headquartered in Seattle, Washington.
Mr. Bannister thanked Bakke University for selecting The Bahamas to expand its campuses.
By SIMON LEWIS
Bahamas Information Services