Seventh Day Adventists Recognized For Nation Building
November 10, 2010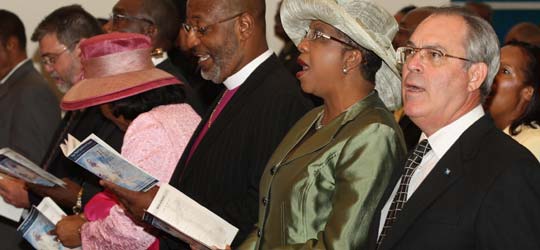 NASSAU. The Bahamas – The Bahamas Conference of Seventh-day Adventists was recognised for its contributions to nation building at its Third Quadrennial Session on Sunday, November 7, 2010.
Deputy Prime Minister and Minister of Foreign Affairs and Immigration the Hon Brent Symonette in his address expressed the government's appreciation for the "good work" which the Conference has done and continues to do.
"The emphasis which you place on good neighbourliness, good citizenship, strong family life and wholesome lifestyles is of particular relevance to our country today where too often civility is disappearing from social discourse and where disagreements are too often settled violently," Mr. Symonette said.
He also acknowledged the contribution of the Adventists to the education system in the country.
"Your role in helping to instil good work ethics and a desire to succeed in our youth will assist in a meaningful way toward their development into productive, useful members of our communities. This activity is invaluable and I encourage you to continue to increase your various life affirming activities," Mr. Symonette said.
The government is responding to the extent possible, in an effort to soften the blow of the economic crisis and to its social consequences, he said.
"The complementary assistance extended by churches such as the Seventh Day Adventists, to members of their congregations in need of assistance and to other needy members in our communities is especially commendable," Mr. Symonette said.
The Seventh-day Adventist Church is composed of 50,000 congregations in 210 countries and over 12 million members.
The Bahamas Conference of Seventh-day Adventists is the fourth largest religious demonisation in The Bahamas. With a history of over 100 years, it consists of 36 churches throughout the Central and Southern Bahamas, and has a membership of 9,935.
By Lindsay Thompson
Bahamas Information Services