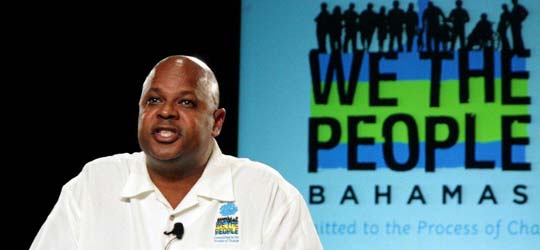 On Saturday, February 26th, 2011 the citizen's action group 'We The People' (WTP) will take its message of people power to the nation's second city. Grand Bahamians will have an opportunity to share in the vision of this community based organization during its launch at the Regency Theatre starting at 7:30pm sharp.
WTP promotes the empowerment of the masses, by encouraging and inspiring individuals to come together to find solutions to the myriad of problems affecting this nation, as opposed to waiting on the government or others to offer solutions.
The brainchild of WTP is Ed Fields, Kerzner International's Vice President of Public Affairs and radio personality. WTP crosses political, racial and religious boundaries and brings together a diverse group of Bahamians, called the First Thirty ( the initial members of the organization, among them Bishop Neil Ellis; businessmen Fred Hazelwood and Franklyn Wilson; former Central Bank Governor Julian Francis; former Director of Culture Dr. Nicolette Bethel and many others).
WTP was officially launched in the capital on November 16th, 2010.  Since its formation, membership has increased from 30 to over 600. The Association is a registered non-profit organization whose membership is open to the general public, students, academia, business professionals, retired public officials, other institutions and associations and anyone who loves The Bahamas.
Those persons interested in attending should RSVP by Thursday, February 24th by calling 352-2988