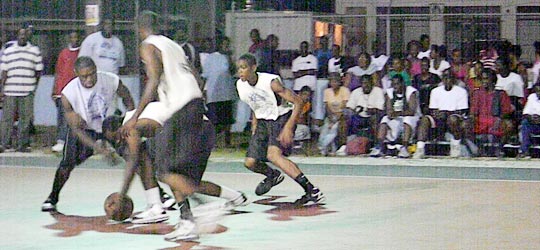 Nassau, The Bahamas – Community youth were drawn by the hundreds and encouraged to compete with each other on the basketball court, rather than criminal court.
Young men between the ages of 16 to 21 represented basketball teams from all nine centres in New Providence, as well as other areas, and competed at Englerston Park, Christie Park and Pinewood Park from dusk until late into the night.
"The objective of the whole thing is to get the young men to get to know each other from the different areas and to compete among each other, but to do it in a healthy environment and learn how to get along with each other through the sport of basketball," said Ella Lewis, New Providence Urban Renewal Coordinator.
"It's been extremely successful and every night the court is filled.  We were wondering and see this is definitely the way to go in reaching the young men because they will come out to this.  We have more than 300 people on the court both watching the game and participating.  They are coming from all the different areas."
From March 30 to April 3, Urban Renewal Community Programme's nine centres held an Inter-Urban Basketball Jamboree, under the theme "You're My Brother".  A spirit of community empowerment attracted thousands of spectators across New Providence communities for five days to watch teams play against each other for championship trophies from Englerston, Farm Road, Yellow Elder, Pinewood, Nassau Village, Bain & Grants Town, Elizabeth Estates, Flamingo Gardens, Fox Hill, Fort Charlotte, Kemp Road, and St. Cecilia.
"We have been getting an excellent response from the community.  We were in Englerston, Ft. Charlotte, Pinewood, and Bain & Grants Town areas and every night the courts have been filled with young people," said Ms. Lewis.
"We have given them what they enjoy doing which is basketball, along with good music, and even the weather has been cooperating.  Urban Renewal is an excellent programme and it has so much to offer Bahamians of all walks of life."
Ms. Lewis said that Urban Renewal has grown from its humble beginnings as an extension of community policing.  The centres have developed into the spine of urban intelligence and are working towards supporting the living, and cutting off the attitude of embracing violence and death.
"Urban Renewal is timely and we do have to stem the tide of violence.  We do have to work at that.  One of the ways of working at it is to provide positive things for the people to do," said Ms. Lewis.
"This particular effort is geared toward meeting the young men in the community, but we have programmes for children, for parents, for the elderly, so we are trying to target all the different areas."
Ms. Lewis said the natural order of life is that children should bury their parents and not the other way around with parents burying their children.  Urban Renewal aims to reverse the negative trends within the communities by addressing the source of the issues, which are a lack of activities available that bring the community together in strength and service.
"We are meeting the young men who love sports, and who love the outdoors, to meet them, provide for them, and watch them enjoy themselves in a healthy way, rather than hurting and fighting and doing negative things.  Here they are doing something positive and getting their exercise as well," said Ms. Lewis.
"Instead of them going to nightclubs drinking and carousing on the blocks, doing something negative like drugs and that type of thing, they are on the court having a good time playing basketball.  It's very, very positive thing, so we need to do more of it," said Ms. Lewis.
The event was held in honour of the former manager of the St. Cecilia branch, the late Roberta Walker Rolle, who passed away during December 2010. She was a government employee, who was remembered as a peacemaker and a well-respected leader in the St. Cecilia community.
By Gena Gibbs
BAHAMAS INFORMATION SERVICES