Perry Christie: The Bahamian Hamlet
December 15, 2011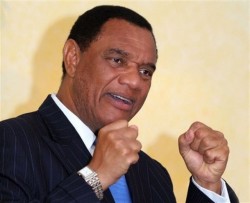 I couldn't stop laughing after reading two stories on your front page this morning.  In the first story there was Perry Christie, the weakest prime minister ever in the history of The Bahamas, still leading a dysfunctional and divided party, talking about leadership in the FNM.
In the second story, there was the ever indecisive Perry Christie, saying that he will make a decision as to whether Vincent Peet will be allowed to run again.  This is the same Perry Christie who seems many long months later to still be wringing his hands about running several people that George Smith, Raynard Rigby and Phillip Galanis warned might cost the party votes.
Perry Christie is our Bahamian Hamlet.  Hamlet of course is the famous Shakespeare character paralyzed from acting because he can't make up his mind.  To be or not to be, is the way Christie runs the PLP and the way he led the country.  That's why he never got anything done from Baha Mar, to a new straw market, to whether to let go members of his Cabinet connected to scandal.
In a terrible spectacle of weak leadership Christie basically went on television to hold Shane Gibson's hand when he left Cabinet.  Once again, he was trying to have it both ways.
Christie should take a lesson in decisive leadership from Hubert Ingraham, who appreciates Cabinet government.  When Sidney Collie lost the prime minister's trust because of a serious error of judgment related to local government elections, he was asked to resign.  The prime minister lost trust in Ken Russell because of various public comments.
Yet when Christie was faced with ministers with all manner of issues, he appeared too weak and too afraid to act.  Most Bahamians believe that Christie is led by events and led by his colleagues.  Most also believe that Ingraham leads his colleagues and shapes events.  This is what leaders do.  It is why in the end the PLP will lose the next election.  They simply have a very weak leader.
The twist in the Ken Russell drama is that it has strengthened the prime minister.  It has rallied the FNM base in Grand Bahama.  It has also reminded Bahamians in general and independent voters of Hubert Ingraham's decisiveness.  It reminded people too, that were he in the same position as the PM last week, that Perry Christie would probably not have had the steel and the nerve to act.
In the end, people want leaders with spine and backbone.  In the choice between Ingraham and Christie, even PLPs know that Hubert Ingraham is the stronger leader.
By: Concerned Citizen