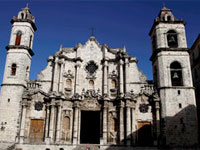 Pope Benedict XVI said that he plans to visit Cuba and Mexico before Easter next year, and prayed that God would guide Latin Americans in "building a society based on the development of good, the triumph of love and the spread of justice."
The pontiff gave no specific dates for the visit as he celebrated mass in St. Peter's Basilica in honor of Mexico's Virgin of Guadalupe. The Easter week celebrations, which traditionally require a pope's presence in the Vatican, start April 1.
Several unofficial news reports have previously said the pope would visit Cuba and Mexico March 23-28. But there has been no word on how many days he might spend in each country or what cities he might visit.
The Cuban Conference of Bishops Monday welcomed the pontiff's comment "with much happiness and hope" but gave no details on the trip, first announced by the Vatican on Nov. 10 as a papal "desire." The 84-year-old pope appears to be in frail health.
In Miami, the Catholic Church said it welcomed the confirmation of Benedict XVI's visit as an endorsement of the pastoral work carried out by its counterpart on the island in recent years.