Bahamian Lawyers, Bankers Suspected of Money Laundering
March 26, 2012
Bahamian bankers and lawyers may have assisted the former President of Panama in setting up and administering a Bahamian shell corporation and bank account that were allegedly used to launder more than $176 million between 2009 and 2010.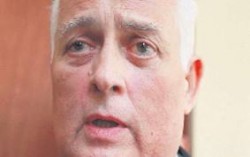 Recent editions of La Prensa  newspaper from March on March 21 and 22 last year said that former Panama president Ernesto (El Toro) Perez Balladares  "could be subject to a second criminal investigation" for money laundering for "alleged irregularities in a bank account in the Bahamas."
Balladares is suing  the civil Corporation La Prensa SA for $5.5 million damages.
The information, according to La Prensa, came from the Attorney General. The prosecutor Marcelino Aguilar considered starting another process after tracing  checks of Banistmo Seaside Foundation International (Bahamas) signed by  Dora Perez Balladares, wife of the ex-president , for society Shelf Holding, consider starting another process.
According to the Public Ministry Shelf Holdings, a company " which handled more than $20 million," the president not only had signature authority but its board consisted of  his secretary Eyda Chacon and two others who worked for him.
According to official sources, reported La Prensa, the Bahamas account against which checks were issued recorded more than $176 million between 2009 and 2010. Before publishing  the two editions, the newspaper contacted the defense team of the ex-presidennt and published his version, said La Prensa.