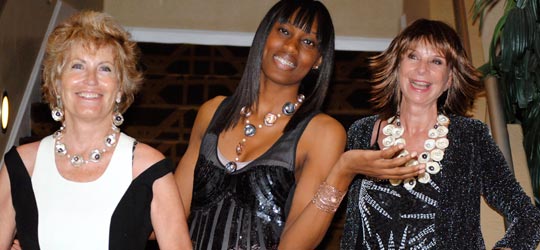 Lyford Cay International School this year celebrates its 50th anniversary and many celebratory events are being held to both fund-raise to expand and upgrade facilities, and to mark the important milestone.
One such event was the recent Gala Dinner and fund raising Auction at the Sheraton Hotel's Independence Ballroom on Nassau's Cable Beach. Guests sipped champagne and viewed the 130 very diverse Silent Auction items which included a 19 foot Boston Whaler, a Yamaha Scooter, Astengo & de Lama jewellery, fine wines and champagnes, a trip to the NBC studios for the 'Tonight Show', and local and international spa days, vacation packages and trips.
With the cost of almost the entire event funded by generous sponsors, it ensured that almost every dollar raised during the silent and verbal auctions benefitted the students.
The event was a sell-out with tables for 10 people costing $10,000.  Guests enjoyed entertainment by the Lyford Cay School students and a lavish buffet-style dinner.
In the 50 years since E.P. Taylor founded the Lyford Cay School, it has become a lynchpin of the western area community and one of only 191 fully International Baccalaureate accredited schools in the world.
Serena Williams… Media & PR