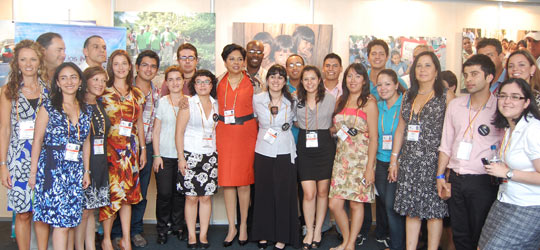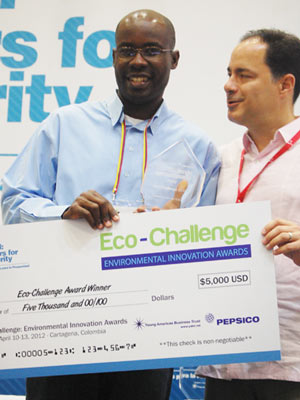 The OAS Bahamas Office is proud to inform that Siphiwe Honey Golden Farm and Preserves has won Eco-Challenge Award Category at The Young Americas Business Trust- TIC Americas 2012, held in Cartagena, Colombia.
This is the first time a team from the Bahamas has ever WON this award.
The Young Americas Business Trust (YABT), in cooperation with the Organization of American States (OAS), the Government of Colombia, Colciencias, Camara de Comercio de Bogota and PepsiCo are pleased to announce the awarded winners of the Talent and Innovation Competition of the Americas (TIC Americas 2012).
TIC Americas Finals was held at Las Americas Convention Center from April 10th to 12th in conjunction to the III Young Americas Forum, prior to the VI Summit of the Americas. Thirty five (35) teams from 13 countries participated in the Sixth Version competing in three main categories: Talent and Innovation, Eco-Challenge and TIC Colombia National.
TIC AMERICAS AWARDS
The Talent and Innovation category awarded four (4) Teams with US$5000 each. Prizes were given in the following categories:
• Social Entrepreneurship: Conexion Adulto Mayor – Peru – Is website that offers information, products, services and community resources for elderly people, their families and caregivers.
• New Markets: ID Textil – Colombia – Smart Dressing Rooms that offers information about the specific clothing one tries on, such as colors and sizes available in the store.
• E-Entrepreneur: Sparck – Chile – Communication systems based on holography for education and online web services systems.
• Tradition and Culture: Turne Green Solutions-USA- Patented technology that addresses and positively impacts environmental issues providing a substitute material made from recycled plastic and rice waste.
ECO-CHALLENGE AWARDS
The Eco-Challenge Awards 2012, funded by PepsiCo, sought for viable and innovative solutions to existing environmental problems. Each of them were awarded with US$5000, in addition to the International recognition and visibility. Two (2) Teams were selected:
• Siphiwe Honey Gold Farm and Preserve – Bahamas – This innovation promotes environmental education, natural resource conservation, and agronomy research through participation in ecotourist activities.
• Reciclando aceite – Argentina – Reuse of vegetable oil waste from domestic sources for the production of organic soap.
TIC COLOM BIA AWARDS
The national TIC Colombia Awards, worked in partnership with Camara de Comercio de Bogota and Colciencias, to identified ideas to contribute to improve the quality of life of Colombian youth. Each team received a check for US$3500 to develop their businesses. The winners of this category were:
• Intern Latin America – Medellin – provide opportunities for international students to come to Latam, facilitating scholarships, internships, volunteering and Spanish classes.
• Meetrico – Cali – website that allows people to be aware of and reserved work-sharing spaces from a city when available.
This competition goes beyond the development of the business plan. YABT and its partners offers, to each participant opportunities to keep strengthening their business ideas through follow-up and mentorships in competitive areas such as networking, international visibility and market access.