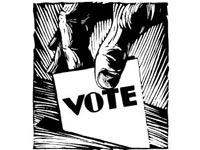 Liquor Sales
Please be advised that in accordance with Section 99 of the Parliamentary Elections Act, all licenses issued under the Liquor Licenses' Act will be suspended on May 7th, 2012 during the hours that voting is conducted.  Voting will take place between the hours of 8:00am and 6:00pm.  Members are reminded that their restaurants, bars and casino bars will not be permitted to serve or to sell alcoholic beverages during this period. Non alcoholic beverages can be sold and or made available to guests.
Employee Voting
In accordance with the Parliamentary Elections (Symbols and Time off) Regulations 2002, all employees registered to vote will be entitled to two hours off in addition to the usual lunch period for the purpose of voting.
This does not apply to any employee who commences work at or after 10:00am, or any employee whose shift concludes at or before 4:00pm. These employees are expected to vote prior to or after their scheduled shifts.    Please advise your Managers to schedule employees so as to ensure adequate coverage within your respective operations.
Should you require further details please feel free to contact Michael Reckley, Executive Vice President for the Bahamas Hotel Employers Association, at 242-322-8381.
Bahamas Hotel Association (BHA)