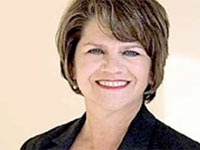 Nygard International, the leading Fashion House which designs & markets women's fashion apparel, announced that Dawn Robertson has joined the company as President of Nygard Fashions & Member of the Executive Committee.  She is based at the company's recently opened New World Headquarters in New York City's Times Square.  Dawn takes over from former Nygard Fashions President, Jim Bennett – who has been promoted to Vice Chairman of the company.
Robertson will be responsible for all aspects of design, production, sales, merchandising & marketing for the Nygard Fashion brands, as well as licensing the Nygard brand worldwide.  Licensed products currently include Outerwear, Swimwear, Footwear, Handbags, Jewellery, Accessories (Scarves, Hats & Gloves), Belts & Sunglasses.
With more than 30 years of retailing experience in the industry, Robertson was most recently CEO of United Retail Group, owner of the AVENUE® brand.  During her tenure, she oversaw a revitalization of the brand & led the retailer through a sale & Chapter 11 process in 60 days as part of a company turnaround plan.  AVENUE® was sold last month to Philadelphia-based private equity firm Versa Capital Partners.
Prior to that,  Robertson was President of Sean John, where she led all aspects of this fast-growing entrepreneurial company.  Earlier, she was President of Old Navy, where she designed & executed a new strong brand positioning strategy supported by a fashion focused, quick product to market process.  She has also held key executive leadership positions with Myer Stores (Australia), Federated Department Stores, Saks, Inc., May Department Stores & Macy's.
"I am very happy that Dawn has agreed to join Nygard," says Chairman Peter Nygard.  "She brings with her an excellent track record of retail & merchandising experience & will be instrumental in taking Nygard to the next level."
Nygard added, "I am confident that Dawn will be a tremendous asset as we look to grow our fashion brands in North America with New York, Los Angeles, Toronto, Winnipeg & Shanghai as major bases of operations for our company."
Nygard is a privately held company controlled by its Founder & Chairman, Peter Nygard.  The company was founded in 1967, & is the North American fashion industry leader in developing & operating a "fast to market" automated supply chain merchandising & logistics systems (NR5) that electronically manages garment flow from original design to FMO (Floor Model Order) to shop-floor manufacturing to wholesale warehousing & distribution.  Nygard's proprietary systems are fully integrated with retail customer Point-of-Sale systems for real-time performance tracking & SRI (Size Replenishment Inventory) automated replenishment of fashion inventory.
The company has continuously expanded over the last 40 years, its steadily & rapidly growing Retail division consists of over 150 dedicated stores in North America, over 6,000 Department Store 'soft shops' worldwide, & over 1 million square feet of distribution space in North America – shipping close to 40 million garments annually.  Nygard also maintains its vibrant online presence at www.Nygard.com.
Along with its new World Headquarters located in the heart of Times Square, the company lays claim to complete design, production & distribution facilities in Los Angeles, Toronto & Winnipeg, superb research & design studios in New York & Shanghai, & sales offices throughout Canada & the US.  Nygard brands; Peter Nygard, Bianca Nygard, Nygard Collection,NJP,TanJay, ALIA, Allison Daley & private brands – offer great fashion, value, quality & a consistent fit – for consumers at all price points.
Nygard International