BPC Shares Jump After PLP Win
May 9, 2012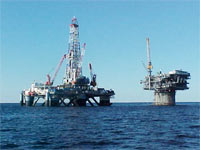 Shares in the Bahamas Petroleum Company jumped 20 per cent in the wake of the General Election that returned the Progressive Liberal Party to power.
The 2012 election campaign had been a source of anxiety for investors, according to market reports, which pointed to volatility in recent trading.
BPC plc's stocks fell by a fourth of its market value following former Prime Minister Hubert Ingraham's comments earlier this month that his government would not allow oil drilling or future exploration without additional regulations.
Concerns were heightened after it was revealed that the oil company had links to executive PLP leadership and senior party members.
Prime Minister Perry Christie is a former consultant for the oil company's Bahamian legal team. Mr Christie said he was hired through law firm Davis & Co, run by Deputy Prime Minister Brave Davis.
In March, former Minister for the Environment Earl Deveaux said proposed amendments to regulations governing oil exploration had been developed, but that it will be up to the next administration to decide whether to address them.
Speaking at his swearing-in ceremony yesterday, Mr Christie downplayed his involvement as a consultant and chastised Mr Ingraham's attempt to insinuate foulplay during the 2012 election campaign.