Medical Studies In National Development
June 20, 2012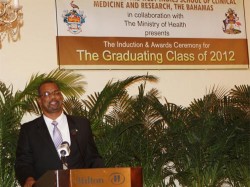 Nassau, The Bahamas – Education, Science and Technology Minister Jerome Fitzgerald expressed the Government's recognition of the partnership that students of the School of Clinical Medicine and Research have with government schools and the importance of local medical studies in advancing national development and empowering Bahamians to better manage the health system.
Minister Fitzgerald addressed the 2012 induction and awards ceremony of the University of the West Indies School of Clinical Medicine and Research   (The Bahamas Campus) on Monday at British Colonial Hilton.
The School of Clinical Medicine and Research has partnered with government schools to conduct intensive research in community medicine, specifically communicable diseases, childhood obesity, hypertension, diabetes, and asthma, said the minister.
"Our students continue to benefit from the knowledge derived from applied research in these areas, especially as we promote healthy lifestyles through our Family Life and Health Education Curriculum.
"The government has promised the Bahamian people that it will charter a new direction in education. The findings of research conducted through the School of Clinical Medicine and Research will better inform our Family Life and Health Education programme and help determine whether we need to modify our teaching methodology and content to coincide with current health issues facing us, our educational system and our nation," he said.
He pointed out that since 2005 the total financial support from the Government of The Bahamas to Bahamian medical students has been $2.968 million  representing approximately 222 Bahamian medical students.   He reaffirmed the government's commitment to providing the level of assistance that will secure the type of training medical students require.
"Through UWI, we are training more Bahamian medical practitioners and medical researchers locally.   These are the doctors who will lead the way in finding clinical solutions to combating the many debilitating and life threatening diseases such as HIV/AIDS and Cancer."
He told the graduates that like the Bahamas' international counterparts, they have the aptitude and intellect to conduct cutting edge research that can assist the country to better manage health care, and formulate medical treatments.
He encouraged the graduates to work to strengthen the nation through education and health, and re-position The Bahamas internationally as expert contributors to revolutionary clinical medicine and research.
Mr. Fitzgerald commended the school's director Dr. Robin Roberts and other visionaries for having the foresight to lobby for a clinical training programme in The Bahamas, which has evolved into an autonomous and well respected course of study.
By Kathryn Campbell
Bahamas Information Services