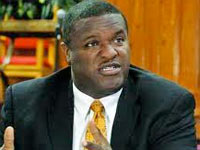 The decision by a group of pastors to sit down with numbers bosses and hear about the 'benefits' of illegal gambling, was like religious men deciding to meet with drug dealers and prostitutes to hear their views on why their nefarious trades should be legalized, according to Christian Council President Rev. Dr. Ranford Patterson.
Patterson said legalizing gambling would likely be followed by a push to legalize gay marriages.
He said the Christian Council has no interest in meeting with the bosses of numbers houses, and will remain firm in its position that it is diametrically opposed to legalizing the operations.
He strongly rejected recent comments made by Reverend Philip McPhee of Mt. Calvary Baptist Church.
McPhee said about 20 church leaders who recently met with the owners of web cafés were 'sensitized' to the contributions these operations are making to the country.
"I don't support pastors talking about all the benefits and all these people who are working at these numbers houses," Patterson said.
"If it is illegal and they are working at these numbers houses then they have illegal jobs."
The meeting with the numbers bosses took place as preparations continue for a referendum on gambling, which Prime Minister Perry Christie said will take place before the end of this year.
Speaking in an interview with The Nassau Guardian, the Christian Council president said, "If you sit down with drug dealers they would tell you that they make positive contributions.
"There are drug dealers who buy computers for the community and do other things for the community. Do we make what they do legal as well? Where do we stop? When do we stop with this thing?
"Do we continue with everyone who breaks the law; we pat them on the back and tell them it's ok? Where do we stop? We need to enforce the law. If the law says it's illegal to do what they're doing, then let's shut them down and wait for the referendum and if it passes then do what needs to be done.
"But if the Bahamian people decide… that we do not want this gambling, this numbers racket in our, what is the police going to do? What is the government going to do? Are they going to be able to enforce it? Are they going to be wasting our time by saying they're going to put it to the people?"
In an interview with The Nassau Guardian on Thursday, McPhee said, "We got a very positive input of what the web companies are all about, what they are doing and how they contribute in many ways to the benefit of the country.
"A lot of us were not aware of those contributions. One web company has given over $1 million to fund various regattas and cultural events such as Junkanoo, and has sponsored many summer programs, feeding programs and clothing programs.
"A lot of these men have been very active in giving a lot to sustain other various programs. Those were articulated to the pastors which brought about a sense of sensitizing."
Although McPhee said several Christian Council members were at the meeting, Patterson said the Christian Council has no interest in being sensitized to the contributions of the numbers houses.
"We are opposed to gambling, the numbers racket, we are opposed to it," Patterson stressed.
"When I hear persons talk about the benefits or the contributions that have been made by these numbers houses, we're talking about what's coming in through the front door.
"I don't think we take into consideration what will have to come out as a result of what we are doing. [The Department of] Social Services is already over stretched. We are going to have to continue to pump millions of dollars into Social Services because persons are irresponsible."
Asked whether gambling is a sin, and whether there is biblical evidence to support this, Patterson said, "I am not taking this from a religious or biblical perspective. I am strictly taking this from a socio-economic position for our people.
"I look at the number of people in our country who are hurting and using this numbers racket as a savior and in reality it's not a savior; it's literally killing families. It's killing communities. It's killing the country.
"I asked the question the other day, where do these number bosses live? Is there a numbers racket on Paradise Island?
"There is none in any gated community. They are all in the heart of our inner-city communities, the majority of them. What does that say?"
Patterson was also asked whether the church will be able to match the $1.5 million the coalition of web shop owners has said it will spend on an education and community development campaign.
"We don't need $1.5 million," he said. "We have the Holy Spirit and we have God. That is enough."
Candia Dames
The Nassau Guardian