Solomon's Lucaya Opens To Eager Shoppers
July 4, 2012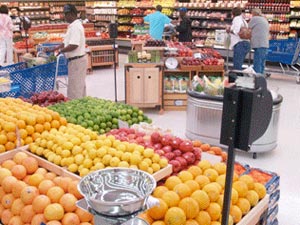 At noon Monday, Solomon's Supermarket opened its doors in the Seahorse Plaza to about 100 persons waiting to get in.
Gavin Watchorn, the CEO of AML Foods of which Solomon's is a part, said they were hoping for a quiet opening so they can work the kinks out.
Having spent a little under $4 million to refurbish the building and stocking out the shop, many of them seemed happy with the new store.
The shop owner further noted that they have been taking all care in having energy efficient materials.
He said: "A large chunk (of the refurbishments) was for energy. We spent some money on energy-related matters which over the long-term will save us money on energy bills."
Watchorn said they hired 62 person so far for the new store, which he feels good about.
Looking at the overall improvements to the shopping plaza, he said the owners, Milo Butler and Franklyn Butler, stepped up here, having painted the plaza, done some landscaping, and reinvigorated the plaza.
He noted that other stores are also set to open in the area soon.