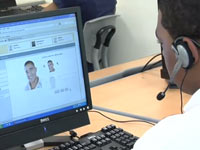 As part of its initiatives to assist businesses with tapping into more international markets, the Bahamas Hotel Association and the Bahamas Hotel Association of Human Resource
Professionals (BHAHRP), in cooperation with the Ministry of Tourism, is offering a low-cost, easy to use foreign language speaking program for front line, supervisory and management staff.
BHA launched the program five months ago with seven hotels to gauge response.  It has far exceeded expectations, with over 1,200 employees enrolled.  We're now rolling it out to all members as well as broader tourism industry stakeholders.
The program is designed for all levels – and can support employees with using basic words and phrases to becoming conversational.  Often, in our industry, providing basic words and phrases goes a long way towards making a guest feel welcome and comfortable.

BHA has entered into an agreement with LiveMocha , the world's largest provider of online foreign language training, providing an attractive enrollment rate to members.  The offer extends to training for over 35 different languages including Spanish, Portuguese, French, Italian, Russian, and Mandarin.  The normal retail price to register directly with LiveMocha is $100/person.  We are making it available to members for $10 per registrant.
Note:  this is an introductory offer and the cost will increase early next year.
We hope this offer excites you as much as it does us.  BHA, the Ministry of Tourism, and other stakeholders are working a number of fronts to realize the potential of the Latin American and other overseas markets.  Research reveals the tremendous opportunity which The Bahamas has to grow the Latin American (up over 80% in past year) and other non-English speaking markets.  Exit surveys of Latin American visitors since the start of direct service a year ago by Copa Airlines show a high level of satisfaction for The Bahamas but also show a high level of frustration in our language limitations.
Registration Form (98KB PDF)