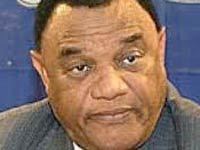 Pastor Cedric Moss of Kingdom Life Church accused the Christie administration of "hiding behind the Bahamian people" by promising a referendum on gambling.
In an article in the Nassua Guardian, Pastor Moss said the country's leaders have lacked the courage to shut down web shops in The Bahamas.
But there is more to it than that.
Numbers kingpin Sebas Bastian admits he "contributed" heavily to both major political parties during the last election.
Mr Christie's insistance on changing whatever laws are necessary to enable the numbers kingpins to operate legally makes one wonder if the campaign contributions were made in exchange for promises to get the numbers boys "straight".
Couldn't that be construed as bribery?
And if Mr Bastian, who openingly admits to running an illegal numbers operation, also admits to making generous campaign contributions to both political parties, wouldn't that mean that both parties accepted the proceeds of crime to fund their campaigns?
If drug dealers get their assets confiscated, why wouldn't a political party, that accepted money from illegal numbers operators (and drug dealers) get their assets confiscated too?
Sort of hypocritical, no?
At a panel discussion on the gambling referendum, held at New Covenant Baptist Church on Tuesday night, Pastor Moss said he believes the government is wasting money by holding a referendum when it has the legal right to make a decision on the issue.
"Why did they all decide instead to hide behind the Bahamian people by way of an unnecessary referendum and say, 'let the people decide'?," questioned Moss.
"They know that gambling is bad for The Bahamas, and therefore they do not want to legalize it," he added.
"Former Prime Minister Hubert Ingraham knew gambling is bad for our country, and therefore refused to legalize web shops and numbers buying.
"Prime Minister Perry Christie knows this as well, and he too refuses to make the decision.
"In my view, both of them lack the leadership and courage to shut the illegal web shops down", pastor Moss opined.
Panelists included attorney Wallace Rolle, disbarred attorney and radio talk show host Ortland Bodie Jr. and Bishop Simeon Hall of New Covenant Baptist Church, who led the discussion.
Senior Vice-President of Administration at Kerzner International and former Bahamas Hotel Employers Association President, J. Barrie Farrington disagreed with Moss' position on the matter.  However, Farrington did agree that a referendum on gambling is unnecessary.
Mr Farrington said the government should "without delay" lead and approve the "formalization" of the lottery and commence the process of developing a legal and functional framework for implementation.
He said there would have to be "unbreakable conditions" applied to licensing in the lottery business.
One unbreakable condition Mr Farrington proposed was that "each applicant must withstand scrutiny. Any criminal history is cause for immediate disqualification."
Wouldn't that automatically disqualify each and every existing numbers kingpin?  Seeing as they have all operated illegally for years, and therefore have an extensive and openly admitted criminal history.
Perry Christie's PLP government plans to satiate their illegal campaign contributors by holding a referendum on the legislation of numbers houses and the establishment of a national lottery before December.
Mr Christie is putting this referendum before a proposed referendum on eliminating the discrimination against women, that is inherent in the flawed Bahamas constitution.
Apparently, payback to his crooked contributors ranks higher than the rights of Bahamian women.
Mr Christie also said that a referendum on gambling would not address the discrimination against Bahamians not being allowed to gamble in local casinos.
Pastor Moss said he finds it suspicious that the government has made a decision to not allow Bahamian residents to gamble in casinos, but refuses to make the decision on web shop gambling.
Moss challenged the prime minister to demonstrate his sincerity to a zero-tolerance approach to crime by shutting down web shops, and shutting them down now!