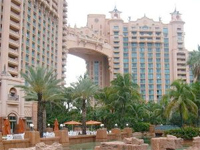 On Sunday, one of the Caribbean's largest gambling resorts was the target of an Ocean's Eleven-style raid after three men posing as maintenance workers tried to rob the cashier's cage of hundreds of thousands of dollars.
The robbery took place in broad daylight at Nassau City's Atlantis resort in the Bahamas and apparently involved five Bahamian men, four of whom were still employed at the Atlantis. Accessing the casino through the basement, three of the gang aged 24, 30 and 31 entered the employee-only area dressed in maintenance worker outfits before crawling through a ceiling space above the basement cashier's cage. The men subsequently released pepper spray into the cage and after the cage workers ran to safety, the men stuffed hundreds of thousands of dollars into their bags before trying to beat a hasty escape.
However, after the panic button was pushed all entrances and exits were blocked inside the casino, and the suspects were swiftly caught by security staff with two of the men apprehended while running down a corridor, and the other robber caught hiding inside the ceiling with over $100,000 of the casino's cash. After the robbers were taken away by the Royal Bahamas Police Force, George Markantonis from Kerzner International Bahamas, which manages the Atlantis Resort, said that their "security teams did an outstanding job in apprehending the perpetrators."
At least 16 members of staff were subjected to the pepper spray and had to be taken to a local hospital for treatment, although all are expected to be quickly released. Fortunately, the robbery took place in an area not visible to casino customers, but Tourism Minister Obediah Wilchcombe said incidents such as these would damage the Bahamas image as a safe tourist destination and recommended that Atlantis Resort Casino improved its employee screening procedure in future.