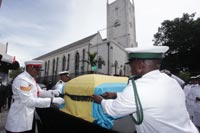 Paul L. Adderley was given a hero's send-off during a State Funeral which reflected upon his dedication to his profession and defending the sovereignty of this country.
The Mass of the Resurrection was held at Christ Church Cathedral on Friday, September 28,  for the former Acting Governor-General, Cabinet Minister and Parliamentarian, aired live over the national broadcast station, ZNS.
Sir Arthur Foulkes and Lady Foulkes led the list of guests, which also included Cabinet Ministers, the Leader of the Opposition Free National Movement, Members of Parliament, Members of the Diplomatic Corps and other government officials.
Mr. Adderley's body was interred at the Western Cemetery, following the Last Post and Reveille, a 21-Gun Salute and flag-bearing honour guards comprising officers of the Royal Bahamas Police Force and Royal Bahamas Defence Force.
Mr. Adderley died at the Princess Margaret Hospital on September 19. He was 84.  He is survived by his wife Lilith Rosena Adderley, and three daughters Dr. Catherine Adderley, Dr. Rosanne Adderley and Paula Adderley, an attorney.
Prime Minister Perry Christie acknowledged the national hero as a loving husband and father, an outstanding historian and one who sacrificed and serve the country with honour and distinction.
"Paul Lawrence Adderley, a founding father of the modern Bahamas, defender of its sovereignty, patriot of the first rank, exemplary servant of the people, outstanding minister of the government, illustrious parliamentarian, sportsman, loving husband, devoted father, proud citizen of the county he helped make.
"He served his country and its people to the very best of his ability, doing so with complete integrity and shunning all honours," the Prime Minister said.
Paul Lawrence Adderley was born in Nassau on August 15, 1928, the second child of Alfred Francis Adderley and Ethel Millicent Louise Adderley (nee Lunn). His older bother Dr. Francis Adderley, predeceased him.
He was educated at Mrs. Maude Wright's Kindergarten School, Government High School, St Catherine's College, and University of Cambridge where he was awarded a Bachelor of Arts degree, a Bachelor of Law degree and a Master of Arts degree. He was called to both the English Bar and the Bahamas Bar in 1953.
He was revered as an extraordinary lawyer, having excelled in criminal and civil law.  Politically he first contested the 1956 General Election as a candidate for the Western District, the constituency formerly represented by his father Alfred Francis Adderley.  In 1962 he was elected Deputy Leader of the Progressive Liberal Party, and served as a delegate to the 1963 Constitutional talks in London, which subsequently led to Independence.
Mr. Adderley left the PLP in 1965 following differences of opinion on election strategies and together with others founded the National Democratic Party (NDP), but it was unsuccessful in its electoral bid in the historic 1967 General Election. In 1972 Mr. Adderley was invited by Lynden Pindling to rejoin the PLP and upon the country's attainment of Independence in 1973, he served as Attorney General until 1989, becoming the longest to serve in that post anywhere in the English-Speaking Caribbean.
Mr. Adderley also served as Minister of Foreign Affairs, National Security, Education and Finance.  Following the PLP's defeat at the polls in 1992, he returned to private practice. Having served as a Parliamentarian – House of Assembly and the Senate – for more than 30 years, Mr. Adderley retired in 1997.
However, he served in various capacities as advisor to the PLP, as Co-chairman of the first Constitutional Review Commission, as Deputy to the Governor-General and as Acting Governor General. He was an avid sportsman and also served on the Bahamas Olympic Association and the Bahamas Amateur Athletic Association. He loved the arts – photographing Junkanoo, collecting stamps, reading and watching western movies.
The Prime Minister also recalled Mr. Adderley's heritage starting with the rich black land owner Alliday Adderley, a liberated African; to William Campbell Adderley, the first black member of the House of Assembly; then to Alfred Francis Adderley, his father who is said to have accomplished all he had on merit, by brainpower, spotless integrity and discipline in his pursuit of excellence.
"Believe me when I say that we cannot comprehend who and what Paul Adderley was, or what he came to mean to the life and times of our country over the course of his 84 years, nor can we comprehend what the lessons of life hold for us now and for the children of tomorrow unless we first realise that Paul himself understood that there was a family tradition of excellence, of high accomplishment, of sacrifice and of service that he had to live up to," the Prime Minister said.
According to the Prime Minister, the most singularly convincing and poignant proof of Mr. Adderley's patriotism would come in the final years of his ministerial career as Minister of Finance.
"What few of us in the country appreciated at the time were the heroic measures that Paul was obliged to take every day to help keep the country afloat as it tossed about on the turbulent waters of one of the worst recessions in years. To make matters worse, there was a general election looming.
"He put country over party. He put statesmanship over politics, declining to do things that might have helped make the political prospects a little brighter for his party but which he knew would definitely have made the financial situation for the country very much worse."
This, the Prime Minister said, Mr. Adderley did through very difficult illness that many had no knowledge of.
"Most of us knew that he had a history of heart problems but none of us ever knew about the cancer (bladder). He never let on. He never complained about that or anything else. He just got on with the job as he had always done."
The mass was presided over by Rev. Laish Boyd, Bishop of The Bahamas and the Turks and Caicos Islands. Also participating were Rev. Drexel Gomez, Assistant Bishop,  Rev. Dwight Bowe, Rector, The Parish of St. Mary the Virgin, Rev. Patrick Adderley, Dean of Nassau;  Cannon Warren Rolle, Rev. Dr. Peter Grist and Rev. Shazzasbazzar Turnquest.
By Lindsay Thompson
Bahamas Information Services