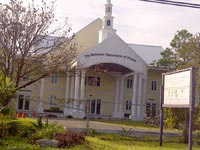 Dr. Kendal Stubbs, senior pastor at the Remnant Tabernacle of Praise Church, was struck and killed by a driver in a Ford pick-up during a fun run/walk event on Saturday at around 7am. Dr. Stubbs is survived by his wife and three daughters.
According to The Tribune, a witness who also participated in the event claimed that the impact of the car had thrown Dr. Stubbs's body into a nearby utility pole.
The accident occurred just west of Gladstone Road, down the street from Dr. Stubbs' church near the corner of the Carmichael Road Detention Centre.
"We are working diligently to bring closure to this incident," Road Traffic Superintendent Kent Strachan told The Tribune. "We want members of the public who might have seen something or seen the driver's face clearly to step up and let us know."
Dr. Stubbs' death is the second hit-and-run accident on Carmichael Road this year and the 31st traffic death recording in 2012.