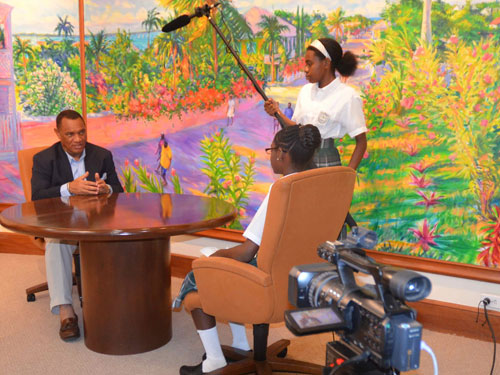 The Bain and Grants Town Urban Renewal Project and the Royal Bahamas Police Force celebrated World Children's Day, November 20, at the "I gat a Right" Seminar, at the Transfiguration Baptist Church Hall on Vesey Street. The theme was "Empowering Children, Changing Lives."
The recognition of children's rights are based on the recent leadership of former United Nations Secretary General, Kofi Annan, who stated: "There is no trust more sacred than the one the world holds with children.  There is no duty more important than ensuring that their rights are respected, that their welfare is protected, that their lives are free from fear and want and that they can grow up in peace."
In 2012, The Bahamas Government's Charter for Governance once again aligned its social services mission with the guidelines of the United Nations, in regard to protecting the rights of children and securing their confidence in contributing to the world around them.
Back in 2002, Minister of Social Development Melanie Griffin introduced the country to the universal concept of children having rights as individuals, that would personalise the social building of their unique characters in confidence.  The Director of Social Services, Ms Melanie Zonicle, confirmed Minister Griffin's convictions were based on the principles agreed upon in the UN Conventions practiced in at least 180 countries around the world.
"The Ministry, in particular Minister Melanie Griffin, when she first became the Minister of Social Services in 2002 to 2005, she did a lot of work on what is known as the Child Protection Act.  This particular legislation speaks to the needs of children," Ms Zonicle told the audience.
"And so, it's an Act that is accepted worldwide and in that Act the principles are taken from The Convention on the Rights of the Child.  The Convention on the Rights of the Child is a set of articles that are accepted by most countries.  And in 1991, The Bahamas made a pledge they signed to say they would follow the Conventions on the Rights of Children.  And so this morning, you are going to hear about those articles," said the Director, speaking on behalf of Minister Griffin.
Participating in Urban Renewal's ceremonial rites of passage for children's rights were Berkell Sturrup and Alexious Walkes, students from Woodcock Primary School, who moderated of the event.  Stanley Pierre, a student from Albury Sayle Primary School,  led the assembly in prayer, as his fellow student, Mariah Russell, led in singing the National Anthem.  In addition, Jeany Jespard, a student from Mabel Walker Primary School, welcomed Director  Zonicle, who also gave remarks on behalf of National Security Minister, Dr. the Hon. B.J. Nottage. The vote of thanks was delivered by Jorelie Lordeus and Sincere Braynen from Mable Walker Primary School.
As recently as last month, Prime Minister Perry Christie spent the morning at the Office of The Prime Minister being interviewed by a crew of students from the A.F. Adderley High School.  The "Make a Film in a Day" project was a part of a sponsored partnership by the Bahamas International Film Festival (BIFF), ESSO, and BTC, to allow the students and Junior Junkanoo participants, an opportunity to blend education, media, and art into a finished 30 minute documentary on the lives of prominent Bahamians, such as Nelson "Chippie" Chipman and Berkley "Peanuts" Taylor.
A.F. Adderley was one of five schools to learn the secrets of film making in one day on the topic of "25 Years Of Junior Junkanoo."
By Gena Gibbs
Bahamas Information Services