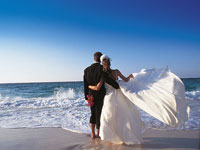 Chic Bahamas Weddings, destination wedding planner, recently added a new venue to its list of wedding locations. The Flying Fish Restaurant is proud to work with Chic Bahamas Weddings to provide couples' an elegant, fun, memorable location for rehearsal dinners and receptions.
Flying Fish Restaurant is an upscale seafood restaurant located on the water's edge in Lucaya, adjacent to the Grand Lucayan Resort. Chic Bahamas Weddings can customize events at Flying Fish Restaurant to fit a couple's unique tastes. Flying Fish Restaurant's classy décor and waterfront views are the perfect setting for families and friends to come together to celebrate the union of two wonderful people.
"Chic Bahamas Weddings is thrilled to include Flying Fish Restaurant amongst its hand-picked venues for Bahamas weddings," said Marva Munroe, event director. "Unsurpassed attention to detail, one of a kind scrumptious cuisine and impeccable service are what guests can expect at Flying Fish. Combine this with a beach or garden wedding ceremony to create an event that guests will talk about for years to come."
Chic Bahamas Weddings can also create menus that meet a group's personal tastes, with any special nutrition needs of group members taken into account. Flying Fish Restaurant offers the best local seafood prepared by its chef, Tim Tibbits. The restaurant uses the latest food preparation techniques to create the most unique dishes found in the Bahamas. Guests to Flying Fish Restaurant regularly feast on oysters, lobster tail, salmon, and more, all while surrounded by the elegant ambiance of one of the Bahamas' finest restaurants.
In addition to its popular cuisine, Flying Fish Restaurant also has a wide selection of wines and a full bar. Chic Bahamas Weddings works with the bride and groom to create a reception that fits their personal style, including cocktails and dancing, in addition to dinner.
Chic Bahamas Weddings knows the most important part of any wedding day is the wedding itself, and the company works hard to create the wedding of a couple's dreams. Couples can enjoy a ceremony on any of the Bahamas' breathtaking islands, including Nassau, Paradise Island, or Harbour Island. While wedding guests are on the islands, Chic Bahamas Weddings can also help plan outings and sightseeing adventures to make the trip a once-in-a-lifetime experience for everyone.
Munroe, director of Chic Bahamas Weddings, has been planning weddings in the Bahamas for more than ten years. Chic Bahamas Weddings puts an emphasis on fun, unique weddings set against the backdrop of some of the most beautiful spots on Earth.
Chic Bahamas Weddings offers great prices on weddings, handling everything from marriage license and permit fees to venue bookings. Packages are available that include limousine pickup from the airport, wedding officiant, private ferry rides for up to 65 guests, and a champagne toast, among other amenities.
By Marva Munroe
ChicBahamasWeddings