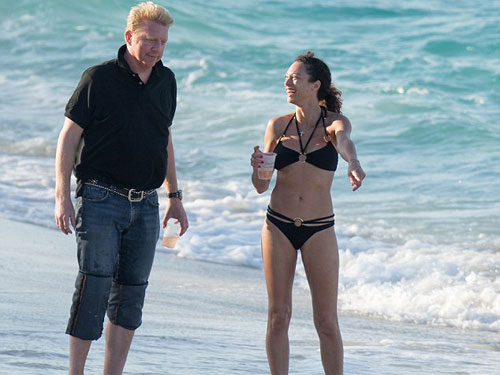 They may have been in the Bahamas to see Boris Becker take part in the PCA 2013 poker tournament, but the former tennis champion's wife, Lilly Kerssenberg, ensured all eyes were on her as the couple soaked up the sun on the beach on Thursday.
The Dutch model paraded her incredible figure in an unusual black cutaway two-piece bikini as she enjoyed a day out with her husband.
With her dark locks scraped back off her face, Lilly – who is also known by her full name of Sharlely – showed off her natural beauty with a make-up free look.
Boris and Lilly, who tied the knot in 2009, seemed to be in great spirits as they made the most of the last few hours of sunshine in their exotic holiday location, laughing and joking as they waded into the perfect turquoise ocean.
And although his stunning wife was evidently keen to showed off her toned physique, the German tennis hero kept his body covered up in denim shorts and a black polo shirt.
The couple were enjoying a spot of alone time after spending the day apart; with Boris taking part in his poker tournament, and Lilly taking the couple's two-year-old son Amadeus to the water park at the nearby Atlantis hotel.
Boris has made sure to keep his Twitter followers up to date with his progress in the poker competition, posting snaps of his fellow competitors.
But it would seem he was none too pleased with his performance earlier in the week, writing: 'Just busted in the main event….it sucks.'
When he is not trying his hand a poker, the 45-year-old sportstman has been making the most of some quality family time, posting a number of photographs of Lilly and Amadeus on his Twitter page.
Meanwhile, sensible Lilly's main focus seemed to be on protecting her skin from the sun's harsh Caribbean rays.
Posting a picture of a selection of sun lotions on her Twitter page, she said: 'it's for my face !!!! I will get pigmentation.
'I got it from being pregnant .. So I'm super careful now. too much sun in face is bad! (sic)'
And the Dutch beauty seemed to be in a reflective mood, telling her followers she was excited for the challenges of the year ahead.
She explained: 'Looking forward to the future and 2013… Bring it on….am so ready for you .. Love and light to all.'
Boris and Lilly tied the knot in June 2009 in St Moritz, Switzerland, before welcoming son Amadeus into the world in February 2010.
By Louise Saunders
Mail Online