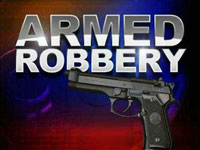 A suspended police officer suspected of involvement in an attempted hold-up of an armored car has been re-arrested, The Nassau Guardian has learned.
Investigators believe the man was wounded when armored car staff opened fire on the robbers near the Island Game web shop at Faith Avenue and Cowpen Road on January 13.
The officer, who was interdicted after he was charged with a previous armed robbery, was placed under police guard at the hospital. After he was discharged, the officer was questioned and released pending further inquiries.
The constable was reportedly held at the Quakoo Street Police Station over the weekend, sources allege.
Another man police believe may have had information about the incident died in police custody on Friday.
Matthew Jacob Pratt, 33, of Nassau Village, died at the Central Detective Unit around 4 p.m.
Police have remained tight-lipped about the circumstances surrounding the death of Pratt and Aaron Rolle, who was found dead in a cell at the Quakoo Street Police Station early Saturday morning.
By Artesia Davis
Guardian Senior Reporter