Former Police Chief Passes Away
February 25, 2013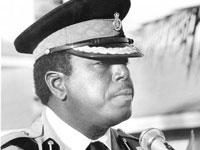 Former Commissioner of Police Bernard Kenneth Bonamy died around 2 p.m. yesterday at Princess Margret Hospital (PMH).
He was 67.
Bonamy was the longest serving commissioner in an independent Bahamas and the youngest to attain the rank.
A native of Cat Island, Bonamy enlisted into the Royal Bahamas Police Force (RBPF) on June 17, 1963 and served with distinction, noted a statement from the RBPF. He served as commissioner for 14 years, from 1987 to 2001.
Bonamy received the Lieutenant of the Victorian Order (LVO) in 1985 from Queen Elizabeth II and the Queen's Police Medal (QPM) in 2000.
Prime Minister Perry Christie hailed Bonamy as one of The Bahamas' most illustrious sons.
He noted that Bonamy also served as secretary of the Gaming Board and was a member of the Bahamas Bar Association.
"It was, however, as commissioner of police that Mr. Bonamy made his most important contribution to national development," Christie said.
"He ascended to that high office during the extremely difficult years when narcotics trafficking and associated criminality were at their height.
"However, he brought to the fight against these menaces an uncompromising integrity and incorruptibility which set the standard for law enforcement officers of the time.
"He was a no-nonsense police chief who insisted on discipline, professionalism, and service with honor at all levels of the Royal Bahamas Police Force."
Former Prime Minister Hubert Ingraham said he was saddened to learn of Bonamy's passing.
"I was pleased to meet Mr. Bonamy as commissioner of police when I became prime minister in 1992," Ingraham said.
"He is perhaps the man most responsible for the modernization of the RBPF in the closing years of the last century.
"He introduced modern management and organizational processes, caused the introduction of computers, and made it possible for the general public to obtain police certificates at all police stations – revolutionary when first introduced during the 1990s.
He continued,"Mr. Bonamy was a true representative of the best of the Royal Bahamas Police Force.
"It is right that at his passing we acknowledge, recognize and praise his many contributions and sacrifices to the benefit of the police force and indeed of our country."
Assistant Commissioner of Police (ACP) Leon Bethell said senior police officers gathered at PMH yesterday when they heard of Bonamy's passing.
"The acting commissioner and a team of senior officers rushed to the hospital," Bethell said. "We held him in high esteem. "He is responsible for a lot of development in the Royal Bahamas Police Force. "He was very strong in discipline and he helped a lot of us move through the ranks."
Cat Island, Rum Cay and San Salvador MP Philip Brave Davis said the country lost a good man.
"His brave loyalty to country, valiant continuous fight to protect Bahamians, and committed passion to command and advance the institution of the Royal Bahamas Police Force are lasting testaments to the measure of this great Bahamian whose life we celebrate today," said Davis, who is also deputy prime minister.
Christie said Bonamy will be remembered for being a sound and innovative thinker and law enforcement strategist.
"Along with the Minister of National Security at the time, the late Hon. Paul L. Adderley, Mr. Bonamy was particularly instrumental in expanding and consolidating the international working partnerships between Bahamian law enforcement and their foreign counterparts, notably with the U.S. and British law enforcement authorities, and on the global level, with INTERPOL," Christie said.
"Mr. Bonamy always conducted himself with great dignity.
"He was a model policeman whose intelligence, leadership skills, and outstanding sense of honor earned him the admiration not only of his subordinates on the force but the general public as well."
By Travis Cartwright-Carroll
Guardian Staff Reporter