Maycock and Son Sentences A Slap On Wrist
February 20, 2013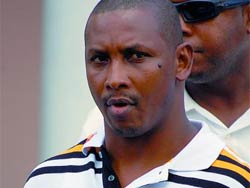 Melvin Maycock Sr received an 8-month prison sentence for his escape from lawful custody five years ago. However, Magistrate Derence Rolle-Davis said his time was considered served since Maycock Sr had spent 18 months on remand waiting for his trial.
Melvin Jr, Maycock's son, was also sentenced, receiving just six months because he had only one previous conviction for which he was fined. That 6-month sentence was further reduced to two months as Melvin Jr. had spent four months on remand.
Former Police Sergeant Troy Lewis spent no time on remand and received a full 6-month sentence.
The sentences are effective as of February 20. Melvin Sr is currently serving three years in prison for possession of dangerous drugs with intent to supply.