Six More Appointees Named To Foreign Missions
February 8, 2013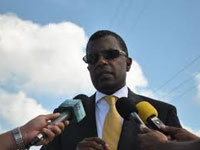 The Ministry of Foreign Affairs and Immigration has announced the newly appointed Heads of Mission, mandated to serve the interests of The Commonwealth of the Bahamas at various overseas offices.
And, the Minister of Foreign Affairs and Immigration Fred Mitchell has expressed every confidence that the country would be well represented, as it seeks to forge closer ties with nations it has diplomatic and other relations with.
They are: Captain Godfrey Rolle, Ambassador to the Republic of Haiti and the Dominican Republic; Calsey Johnson, High Commissioner to Canada; Dr. Elliston Rahming, Ambassador to the United States and Permanent Representative to the Organisation of American States; Rhoda Jackson, Permanent Representative to the United Nations in Geneva and Ambassador for Trade; Paulette Zonicle, Consul General, Washington D. C.; and Oswald Brown, Press Attaché, Washington, D. C.
Captain Rolle joined The Royal Bahamas Defence Force on January 2, 1978. He was appointed Charge d' Affaires at The Bahamas Embassy in Port-au-Prince, Haiti on February 16, 1998 to December 2000. In January 2001, he was made Head of Legal Division, Ministry of Foreign Affairs. He was also responsible for coordinating the national drug control efforts of The Bahamas and other anti-drug initiatives.
Mr. Johnson was a career broadcaster for three decades, having held the position of General Manager for 14 years with the Broadcasting Corporation of The Bahamas (known as ZNS).  He also served as Vice President of the Commonwealth Broadcasting Association and of the Caribbean Broadcasting Union.
Following his retirement from the profession, he secured vast experience in insurance management, serving as vice president of marketing and sales with British Fidelity Insurance Co Ltd for four years; a member of the CL Financial Group.
Mr. Johnson ran as a candidate for the Progressive Liberal Party in the Bamboo Town Constituency in 1992. He served as Secretary General of the PLP from 1992-1994, and served as a Senator of the PLP from 1992 – 1994.
Ms. Zonicle, also a journalist and broadcaster spent 18 years at the Broadcasting Corporation of The Bahamas (ZNS). She served as a PLP Senator from 2002-2007, and is a founding member of the Princess Margaret Hospital Foundation.
Mr. Brown, too a career journalist, started in May 1960 when he joined the staff of The Nassau Tribune as a trainee reporter.  He also worked with The Bahamian Times, The London Evening Standard, and The Institute for Services to Education in Washington, D. C. as political editor, and The Freeport News as editor and The Nassau Guardian as editor. He was also founding editor of The Torch of Freedom from 1971-1973.
Dr Rahming obtained a Masters degree in Social Policy and the PhD in Philosophy with concentration in Criminology from Washington University in St Louis, Missouri.  He has headed a youth detention facility in St Louis and worked with the Missouri Board of Probation and Parole.
He served for four years as Special Assistant to the late Sir Lynden Pindling, Prime Minister of The Bahamas, and as consultant/advisor on crime within the Ministry of National Security.  From 2000-2002 he served as Special Assistant to the Hon. Perry Christie, while leader of the Opposition and from February 2002 – 2005 (when he assumed the post of Superintendent of Prisons) he served as Special Advisor to Prime Minister Christie.
He is a founder and former executive of Sojourner Douglas College (Bahamas Campus) RESPECT Academy (now Westminster College).
Ms Jackson was a teacher from October 1984 to July 1988, until she became a Trainee Executive Officer at the Ministry of Foreign Affairs in August 1988. She was appointed Deputy Permanent Secretary in January 2011. Her Foreign Service career has taken her to London, Washington, New York and around the Commonwealth pushing the country's interest in various international sessions and high-level meetings.
The latest appointees join three who were announced in September 2012, namely Alma Adams, an educator, Bahamas Ambassador to the Republic of Cuba, resident in Havana; Dr Eugene Newry, Bahamas Ambassador to the United Nations, New York; and Journalist Ed Bethel, Bahamas High Commissioner to the United Kingdom, resident in London.
"Our foreign policy team is strengthened by these men and women who understand the need to be ambassadors for our country and also play a role in bringing new investment to our country," Prime Minister Perry Christie had said during a press conference at the Ministry of Foreign Affairs on Wednesday, September 5, 2012.
By Lindsay Thompson
Bahamas Information Services