Focus On Illegal Immigrants Not Legal Workers
March 27, 2013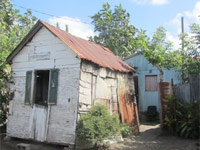 DNA Leader Branville McCartney called on the government to direct attention to illegal immigration instead of targeting legal foreign workers who are contributing to society legally.
Mr. McCartney was quoted in a Tribune article: "There has been a lot of talk recently about the restriction of work permits within the next year by this PLP administration,' he said.
"The Minister of Foreign Affairs stated recently that within a year work permits will not be issued for certain classes of workers, namely maids, housekeepers and labourers.
"What needs no public discussion is the profound illegal immigration mess this country faces. This indeed is perhaps the most paramount concern of the immigration department to date. Just look around our country and listen and your questions on illegal immigration in the Bahamas would be answered. We have an illegal immigration problem in this country of mammoth proportions," Mr McCartney said.
According to the Tribune article it was determined in 2009 that there were 37 shantytowns in New Providence alone. These shantytowns are are known to be crowded with illegal immigrants and criminals seeking refuge.
"Any and everything is allowed in these places that should be condemned but it seems like administration after administration lacks the political will to eradicate this problem," Mr. McCartney said.
In the Tribune article Mr. McCartney was further quoted: "The illegal immigration problem costs our country every day the good Lord sends. It contributes to our crime problem and it is a continuous drain on our health care system, on our schools and on our social services department," he said.
"We think it is time that the Bahamian people deserve to have proper representation that is in their best interest and to know exactly what this administration that 'Believes in Bahamians' is going to do with one of the most vexing problems this country faces.
"The silence by this PLP administration in this regard is most deafening."