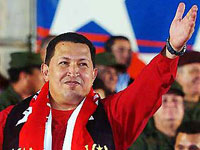 After two years of battling cancer, Venezuelan President Hugo Chavez died on Tuesday at 4.25 pm.
Vice-president Nicolas Maduro made the announcement on public television shortly after, speaking from the Military Hospital in Caracas, where Chavez was being treated following his return from Cuba.
Military and police have been sent out into the streets to maintain the peace but for the moment things were calm.
The announcement of Chavez's death came on the heels of an earlier communiqué by communication and information minister Ernesto Villegas, saying that his condition had deteriorated, with a worsening respiratory function.
Villegas said that, in the two weeks since Chavez returned to Venezuela following surgery in Havana on December 11, his respiratory functions worsened as a consequence of a new and severe infection.
The president was also undergoing aggressive chemotherapy, among other related cancer treatment.
By Caribbean News Now contributor