Luncheon Honours Framers Of The Constitution
March 5, 2013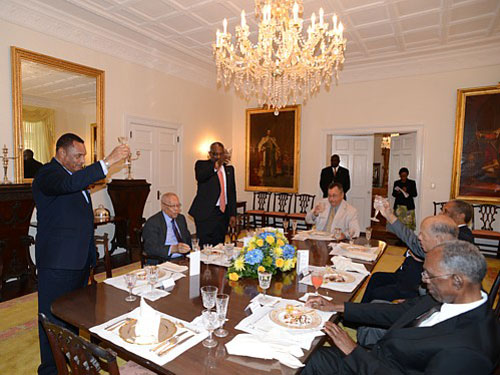 Governor General Sir Arthur Foulkes held a luncheon at Government House in honour of the Framers of the Constitution of The Bahamas and in celebration of the 40th Anniversary of Independence.
Former Governors General Arthur D. Hanna and Sir Orville Turnquest, former Cabinet Ministers and Members of Parliament Loftus A. Roker and George A. Smith, and Sir Arthur Foulkes himself are five of the six surviving delegates at the Constitutional Conference in December 1972 who were able to be present at the luncheon on February 28, 2013.  Former Minister and Member of Parliament Rev. Philip M. Bethel, who resides in Eleuthera, did not attend.
Prime Minister Perry Gladstone Christie, and Leader of Her Majesty's Loyal Opposition Dr. Hubert Minnis were also in attendance.
During the Loyal Toast Sir Arthur said, "I hope that whatever we do, we bear in mind that we have a Constitution that has served us very well over these last 40 years; we have had four changes of Government and they have gone smoothly.  That is something to be proud of and we must protect what we have in that regard.
"So I am very glad to be sitting with the remainder of us, except for Mr. Bethel who could not be here, who in December 1972 contributed to the drafting of the Constitution."
Sir Arthur and his luncheon guests observed a few moments of silence in memory of those framers of the Constitution who have passed on: Sir Milo Butler, Sir Lynden O. Pindling, Sir Clement Maynard, Paul Adderley, Cadwell Armbrister, Norman Solomon,  Sir Kendal G. L. Isaacs, Carlton Francis and Henry Bowen.
His Excellency said, "I thought we should have this luncheon to celebrate what we did then, and also to pay tribute to my colleagues who were a part of that great enterprise."
He added, "I hope that we continue to celebrate this 40th anniversary of Independence in a spirit of national unity."
Prime Minister Christie said, "I want to pay tribute to all of you who were there; everyone knows that I feel that something is missing in our country because your stories are not as well known as they should be."
The Prime Minister told the survivors that they must make sure that their stories are written and documented for younger Bahamians.
"Each of you has been so much a part of the history of the country; you run the danger of allowing other people to interpret your views, and that is dangerous."
Dr. Minnis said, "I have learned quite a bit here sitting and listening to the original framers to our Constitution and about the direction they thought the country should go."
He said, "I understand that we must work together as one Bahamas.  Majority Rule Day is not PLP, is not FNM; so I ask that we send this message forward, that it is not a partisan; it is a Bahamas thing; it is for Bahamians.
"We cannot divide our Independence; it is for Bahamians again.  We cannot be divided on Heroes Day should that day come; we cannot be FNM or PLP; we must be Bahamians."
Dr. Minnis noted his agreement with the Prime Minister concerning the importance for the stories of the surviving framers of the Constitution to be recorded.
"We must write more about the history of The Bahamas.  I think when our children learn more about the history they will have a greater appreciation; so we must preserve our history."
A former Governor General Sir Orville said, "I am delighted that Your Excellency has taken this occasion for those of us who remain out of the Framers of the Constitution.  There are just six of us left who, just over 40 years, ago met in London to frame the Constitution, and it is a historic occasion that this year our country will be celebrating 40 years of the framing and the successful operation of our Constitution."
Mr. Roker and Mr. Smith also spoke about their recollections of the events of 1972 and 1973.  The luncheon guests also discussed among themselves the progress The Bahamas has over the last 40 years, the problems facing the country at this time, and prospects for constitutional changes.
By Bahamas Information Services