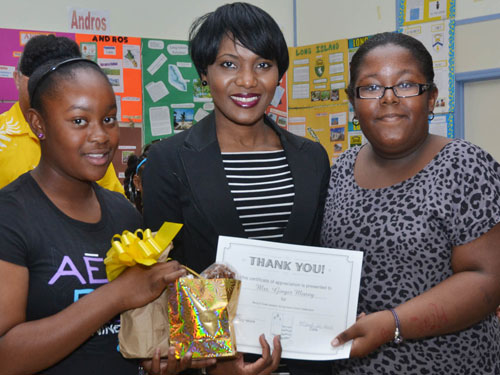 Freeport, Bahamas – Mary Star of the Sea Catholic School's 17th annual Down Home celebration was a time for reflection for all in attendance who were encouraged to be 'Proud of Our Heritage'.
Addressing faculty, students, parents and other invited guests, Ginger Moxey, Vice President, The Grand Bahama Port Authority, Limited (GBPA) and Vice Chairman, 40th Independence Committee, described the school event as most fitting in light of the country's 40th Independence anniversary.  "Understanding where you come from ties in well with the theme of the Independence celebrations, 'A Bridge to the Future – the Journey Continues', stated Moxey.
Inviting her audience to take a trip down memory lane, she further alluded to the age-old adage, 'If you don't know where you came from, how can you know where you're going to?  "Please indulge me as I take you on a journey of where I came from and how it has caused me to be the person that I am today, one who is deeply concerned about the people in our community and wanting to do my part in bringing relief to those who are hurting," she implored.
The Eight Mile Rock native recalled childhood days spent in an era when "the entire neighbourhood was like one big happy family, and everyone looked out for one another."
Despite this idyllic setting amidst a time of sharing and caring, she was faced with personal would-be obstacles such as the loss of her father at the age of 8 and a loving but illiterate mother.
"In retrospect, what I can say today without contradiction is that instead of dwelling on the situation, I made a deliberate decision to make the most of a bad, and yet as we sometimes think as children, unfair situation," recalled Moxey.
Always academically inclined even in her preteen years, she excelled at Martin Town Primary School and was rewarded with a GBPA scholarship to the former Freeport Anglican High School now Bishop Michael Eldon School.  School breaks were spent working at GBPA and eventually almost all of the Group of Companies.
In 2009, she received her most recent promotion as Vice President with responsibility for corporate relations and administration, community relations, employee relations, public relations/marketing, business and government relations.
"So getting back to today's theme of being proud of our heritage and remembering where you came from, without a father and a wonderful mother who could not help me with my schoolwork, I made a choice to work really hard in school, study by all means necessary, listen attentively to my teachers, obey my mother and grandparents and respect all whom I came into contact with," Moxey said.
She then encouraged her listeners to strive to do the same. "The choices we make in life directly relate to how successful we are," added Moxey.  "As children, be children, don't rush into adulthood.  You will have plenty of time for this." Also, she challenged them to set goals, be ambitious and dream big. "No matter who your parents are, where you come from, or what challenges you have in life, you can do anything if you set your mind to it and don't allow anything, or anyone, make you believe otherwise," she advised.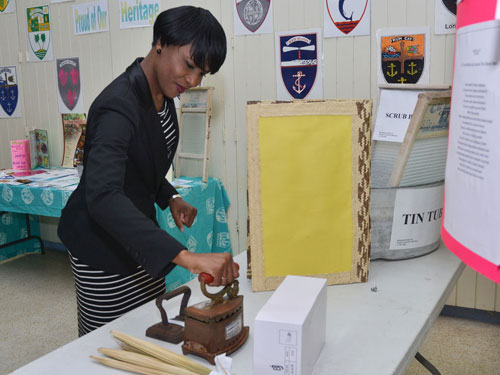 In conclusion, Moxey left these parting words with her impressionable listeners, "I thereby encourage you today to make a choice to start from a young age to develop yourselves into caring community participants and leaders with God as your guide.  Furthermore, in the coming weeks as we celebrate our country's independence, a sense of pride should be swelling in us.  Let us all dig deep to remind ourselves of where we've come from, where we intend to go, and the difference we intend to make on our island, and throughout The Bahamas."
The Grand Bahama Port Authority, Limited
Top Caption: GBPA EXECUTIVE JOINS IN CULTURAL FESTIVITIES: Two eager students of Mary Star of the Sea Catholic School presented Ginger Moxey, VP, GBPA, with a token of appreciation. The students regaled their audience with native music, poetry and storytelling.