Christie, Nottage Wash Their Hands of Web Shop Issue
April 17, 2013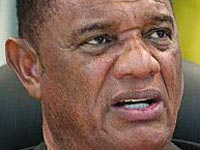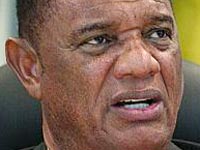 Like Pontius Pilate on that fateful day, Prime Minister Perry Christie and Security Minister Bernard Nottage have washed their hands of the web shop controversy.
Following the FNM's call for the immediate closure of illegal gambling and lottery operations, Mr Christie said he does not have to "get involved" in enforcing his orders to close the web shops.
He said the well-trained and "well-led" Police Force are responsible for enforcing the law.
True, but as Prime Minister, it is his job to make sure the police are doing their job, isn't it?
FNM Leader Hubert Minnis has criticised the government and police for the "inordinate delay" in closing the web shops after Chief Justice Michael Barnett lifted an order that protected the web shops.
Showing his typical clueless nature of the events of the day, Mr Christie said, "I don't know if they (web-shops) have appealed yet on this matter, but the government, the prime minister, doesn't get involved in enforcing it."
First of all, why wouldn't Mr Christie know whether an appeal has been made or not?  Even Potcake knows more about what's going on than that.
"The police know what their jobs must be; it is for the police to do what they have to do and interpret the judgement as they have to interpret it and if they need advice, they get their advice from the Attorney General. But it's not Perry Christie closing it down," said the Prime Minister, as if he wanted to make sure his web shop cronies couldn't blame him, especially after all the money they allegedly gave him for his election campaign.
But is this the same man who ordered that web shops be closed following the failed referendum in January?
Christie said that his January statement, that all web shops must close with immediate effect, "speaks for itself" and he's "moving on".
Following the January referendum on web shop gaming, Prime Minister Perry Christie announced that all web-shops must close with immediate effect; but web-shops filed an injunction to block any move by the government from interfering with the operations.
Crown attorneys moved to have the January 30 court order lifted in a hearing before the Chief Justice a week ago. They succeeded.
On April 10, Chief Justice Michael Barnett ruled that "the police must be allowed to enforce the law unless and until the law has been declared to be invalid."
Web shop attorneys applied for a stay of that order. The Appeal Court rejected their application.
Prosecutors argued that operators had themselves admitted they were engaging in gaming and that such activities went outside of what they were licensed to do as web shop cafe operators.
The fact that his order has been ignored, even after legal challenges were exhausted, apparently isn't Mr Christie's concern.
"We are a country of laws," Mr Christie said.
But are we?
The law says web shops are illegal, yet even police officers openly play the numbers.
Meanwhile, National Security Minister Dr Bernard Nottage said it was not his job to direct the police chief, adding that officials would have to wait for the advice of Attorney General Allyson Maynard-Gibson before making a decision on the way forward.
And Police Commissioner Greenslade says the force is now conducting a probe to see if web shop owners are deviating from the clauses of operation allowed in their business licenses.
Yet, the fact that they are violating the law is something web shop owners have already admitted. Their attorney Wayne Munroe has previously said it did not matter if his clients were engaging in gambling, because the government had no right to tell people how to spend their leisure money anyway.
This past weekend, Opposition Leader Dr Hubert Minnis said: "It is now the job of Mr Greenslade to do his best to enforce the law; to stop making what sounds like lame excuses, and to stop trying to anticipate the legal challenges which people who are breaking the law may try to raise. Let lawyers do the job of lawyers while you, Mr Commissioner, do the job for which we believe you to be fully qualified and capable, namely prevent crime, including 'white collar and computerized gambling crimes."
But wait… there's more. Wayne Munroe – the attorney for Island Game, Island Luck, FML, Asue Draw, Whattfall and Chances – has advised his clients to stay open and let the government close them down.
And he even threatened the government, saying that if the government chooses to act on the Chief Justice's ruling, government could set itself up for further legal action at the cost of taxpayers.
Or, a wise judge could make Mr Munroe and his clients pay all future court costs after they lose the next round.
By Frederick Reed