Prosecutors Fight Bid To Stop Murder Case
April 10, 2013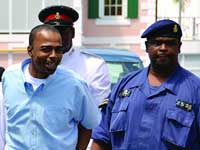 Accused murder Kofhe Goodman made "scandalous" allegations against National Security Minister Dr. Bernard Nottage in an affidavit in support of an application to stop his trial.
Goodman, who is also known as Edwardo Ferguson, is accused of the September 2011 murder of 11-year-old Marco Archer.
Goodman's lawyer, Geoffrey Farquharson, has alleged that pretrial publicity and public commentary about the case have made it impossible for Goodman to receive a fair trial.
Prosecutor Neil Brathwaite yesterday asked Justice Bernard Turner to strike out the affidavit because it contained "scandalous" and "irrelevant" material.
In his preliminary objection, Brathwaite said the affidavit in support of the application for a stay was rife with "inadmissible opinion" and the assertions were framed in a "scandalous manner".
He said, "Having regard to the contents of the affidavit, which has been sworn and filed in the matter; the inadmissibility of what is contained therein; the scandalous nature of what is contained therein; we say the affidavit should be struck out."
The deponent, Goodman, characterized Nottage as a "demagogue" who deliberately made remarks about establishing Marco's Law, which would establish a sex offender's registry and change the way police dealt with reports of missing children.
As Brathwaite referred to paragraph 56 of the 76 paragraph affidavit, Turner asked if the minister was being accused of a criminal offense.
Brathwaite said the allegation of criminal behavior against the minister was repeated elsewhere in the affidavit.
The judge intervened and asked Farquharson if he was seeking to prove his point by himself making "inflammatory statements".
Farquharson said that Nottage was well aware that there was no evidence that Marco had been abducted or sexually assaulted.
Farquharson said there were "hundreds of thousands of examples" of prejudicial and lurid statements made about the case, but he had only presented a sample of the
offending remarks.
Some of those examples contained comments by newspaper readers calling for Goodman to be killed. Goodman's trial was supposed to begin on April 8.
However, Farquharson raised the potential prejudicial effect of media coverage during a case management hearing on March 27.
The day before, Nottage renewed his pledge to establish Marco's Law at a seminar for the Protection of Children.
Farquharson was supposed to deliver his documents in support of the application by noon on Monday. However, the documents were not handed over until yesterday.
Farquharson noted that the Crown and the court did not have enough time to study his submissions.
Turner will rule on the request to strike out the application on Thursday. The jury pool has been asked to return on Monday.
Garvin Gaskin, the deputy director of public prosecutions, and Darell Taylor also appeared in the case.
By Artesia Davis
Guardian Senior Reporter