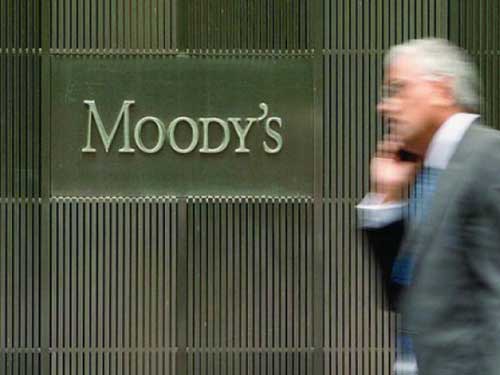 A top rating agency is projecting the country's debt-to-GDP ratio will swell into the mid-60s this year, and could eclipse 70 percent in the next two or three years.
In its assessment to Guardian Business, prior to the government budget communication this week, Moody's acknowledged that the economy will likely get worse before it gets better. Progress in the implementation of value-added tax, reigning in spending and establishing new avenues of growth are squarely in the radar for Wall Street.
"It (debt-to-GDP ratio) will continue to creep up," said Edward Al-Hussainy, assistant vice president and analyst at Moody's. "It might reach 70 percent if we don't get growth in the next two or three years. The government has spoken of running deficits for up to three years before they can start closing that gap. And every time you do that, you're adding to the debt. So 70 percent is entirely possible."
Although there are many factors that could determine the direction of the economy, some of which are beyond government control, Moody's said growth was the main "moving part".
A solid recovery in the U.S. and Europe will have a significant trickle down effect on tourism, the nation's number one industry.
Meanwhile, the approval of foreign-direct investment (FDI) projects will be drivers of employment and economic growth, Al-Hussainy said. It will be important to maintain this growth after Baha Mar, the $3.5 billion resort now under construction in the capital, opens its doors late next year.
James Smith, chairman of CFAL and a key adviser to the Christie administration, agreed that solid FDI projects are essential to future growth.
While he is not directly privy to what's in the pipeline, he confirmed that government is actively seeking major projects that could come to fruition earlier rather than later.
"Sometimes, if you have one successful project like Baha Mar, another can come around the corner," Smith said. "It is the follow the leader approach. That has been our experience in the past. It happened with Atlantis, I recall."
Al-Hussainy pointed out that The Bahamas currently holds a negative outlook after the international rating agency downgraded the economy in December from A3 to Baa1, the third downgrade for the country in as many years.
He called the weight of the country's economic stresses "pretty big".
Another large component to recovery is VAT, which is supposed to come into force just over one year from now. Al-Hussainy said that it would be a "big plus" if the government can pull it off within its aggressive time frame.
"They are doing work on tax collection regarding property tax, new excise taxes, and there are a lot of moving pieces. The question is, will it bring in more money?" he asked.
The prime minister is indeed expected to address VAT during his budget communication on Wednesday.
Moody's told Guardian Business there is a fair amount of anxiety surrounding VAT in various circles. VAT's effectiveness will not just be determined by how soon its implemented, but also in terms of how broad the net is, Al-Hussainy explained.
The tourism sector is particularly concerned by the VAT because it views the measure as a possible deterrent to competitiveness. Determining concessional rates, while also making money, will be a difficult judging act for government.
In general, the Moody's analyst emphasized that The Bahamas is in a desirable position compared to many Caribbean countries, such as Jamaica. Wednesday's budget is the first real kick at the can for the Christie administration, he said.
"They have had a year to build up from scratch and to study what the challenges are. We will see how they address them," he said. "I don't think the challenges are new. We know the problems."
By Jeffrey Todd
Guardian Business Editor