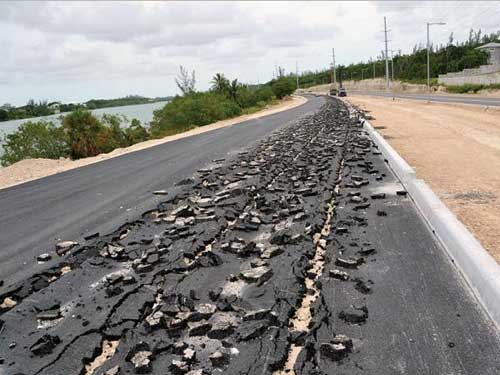 The Airport Gateway project is almost finished. The new highway will take motorists from the airport toward the center of the island. It is intended to improve the flow of traffic for those entering the country.
Recently, an unknown individual or individuals stole a machine used on the project and dug up nearly two miles of newly paved road. Police estimate the cost of the damage at $1 million.
The damaged area is between the Gladstone Road roundabout and the entrance to the Westridge subdivision. Permanent Secretary in the Ministry of Works Colin Higgs said yesterday he did not know what motivated the incident.
A Caterpillar D8, which was left on the road's median when workers finished their shift on Friday, was used to damage the roadway.
Head of the Central Detective Unit Superintendent Paul Rolle said police had no suspects in custody.
"We are still in the early stages of the investigation and trying to see if we can figure out who the suspect is," he said.
Commissioner or Police Ellison Greenslade should ensure the resources are there for police to quickly find those responsible for this act. And once found, whoever is responsible should be properly charge with all offenses committed during this act. Swift justice should then occur.
The deterrent effect to prosecution is virtually lost when prosecution take a long time to take place. This is one of the tragedies of the current backlog before or courts. Bahamians see on the streets people who they know to have committed crimes and those people are sometimes out for years without trials.
When prosecution is swift and effective, those who are aware of the crime come to know that there is a quick and painful consequence to harming or robbing others.
Taxpayer dollars will pay for this highway. It is an offense against the people to damage their property in the manner it has been damaged on the Airport Gateway Project.
"Someone obviously jumped on there and went on the war path," Higgs said.
"I think it's about 1.7 miles that was damaged. Why it happened, it appears to have been deliberate. I have no knowledge of who did it or why."
There is no reasonable justification for someone intentionally damaging a public road under construction in this manner. Such irresponsibility and recklessness should be met by firm punishment if we are to deter such activity in the future.
– Editorial from The Nassau Guardian