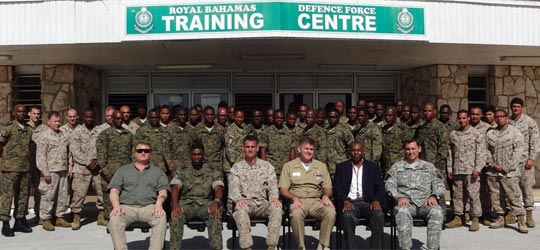 On Friday, June 28, 40 members of the Royal Bahamas Defence Force's (RBDF) Commando Squadron completed an intensive two-week training program at the RBDF's headquarters that focused on enhancing their ability to effectively combat transnational criminal elements and drug trafficking organizations.
The training was made possible by the Marine Corps Forces North (MARFORNORTH) and funded by the United States Northern Command (USNORTHCOM).
The purpose of the training exercise was to enhance RBDF officers' skills in several areas including rifle marksmanship, close quarter battle, & intelligence gathering.
MARFORNORTH designed the program to develop leadership at all levels by providing the full spectrum of tactics, techniques, and procedures required during urban combat and counter narcotics operations.
The RBDF marines also completed the "Combat Lifesaver" training to improve casualty care capabilities during combat missions.
This latest exercise follows a similar training that was conducted in March of this year and funded by USNORTHCOM.  Both organizations, USNORTHCOM and the RBDF will continue this successful bilateral partnership through continued training opportunities for Bahamian law enforcement officers.
Source: US Embassy
Captions: (Photos courtesy of the Royal Bahamas Defence Force)


RBDF marines participating in training exercises conducted by officers from MARFORNORTH at the RBDF Base, Coral Harbour.
Top photo: U.S. and Bahamian officials at the closing ceremony with RBDF marines that completed the training exercises at the RBDF Base, Coral Harbour.