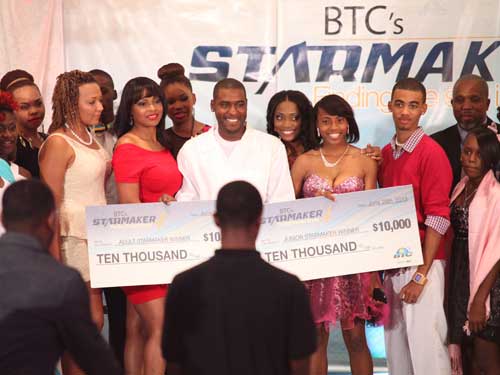 Two outstanding young Bahamians have achieved recognition and overnight stardom by winning the character building, life changing BTC StarMaker title in a nail-biting finale presented live on ZNS Television and in front of a packed house of excited fans and family at Nassau's Hilton Hotel. The two new BTC StarMakers each won a BTC promotional contract worth $10,000 and a public platform to promote BTC's extensive community and civic out-reach programmes.
Fifteen-year-old Taja Moxey won the Junior division and twenty-six year-old Jason Clarke won the Senior division.  Taja Moxey also won the Congeniality Award.  Emma Hall and Daquan Swain were named the two Runners-up.  Emma Hall also won awards as the most Photogenic and most liked on Social Media.
Now in its 4th year of production, the show created by Marlon Johnson, BTC Sr. VP Brands & Communication, is the first of its kind to be produced by a corporate entity.  The primary aim of the show is to uncover personality traits and talents and to develop personal management and social skills in the youthful Bahamian entrants via a series of challenging tests and interviews by a panel of judges. While musical skills or singing and dancing are helpful, the competition does not require them. A likeable, memorable and winning on-air presentation and personality are key requirements of every StarMaker winner, as are charm, poise, and a natural empathy and team spirit.
"BTCs StarMaker winners will always be young men and women who have exhibited the needed on-air personality to promote our products and services. But we also look for character traits that reflect our own company position on community care and advancement.  Our StarMakers will have won their title for also being personable and kind and thoughtful of others at all times," said the Senior VP.
"BTC is a philanthropic company involved in dozens of community programmes that actively help improve the quality of life on many levels and areas. Our StarMakers are actively involved in these community endeavors, so to win, to become a StarMaker title holder, we need to see evidence of that in their own lives."
About BTC StarMaker 2013
Contestants entered to win the title of the 'next face of BTC' and a $10,000 contract to promote the products and services of the company. They were interviewed by a panel of judges via a nationwide casting call earlier this year and throughout the length of the 6-week challenge.  And in May, 16 contestants aged between 15 and 30 moved into the StarMaker House each weekend for televised, reality show competitions to find the Junior and Senior winners deserving of the prize.
The Judges were photographer Kovah Duncombe, modeling and etiquette specialist Deborah Geear-Bethell, image consultant and branding specialist Stacia Williams and Artistic Director of the Lawrence Carroll Dance Academy, Yorick Lawrence Carroll.
Each week two contestants were eliminated from the series, until 6 finalists remained for the big finale on June 26th.
The BTC StarMaker show is extremely popular among the youth and adult demographics. The Broadcasting Corporation of the Bahamas ranked it second only to their ZNS TV 13 newscasts in viewership and popularity.  Viewers were encouraged to watch for the weekly opportunities to win smart phones, phone credit and other BTC products and services.  Customer contests were also held through www.btcstarmaker.com website and social media outlets which included Facebook, Twitter, Instagram and 4 Square.
By Serena Williams