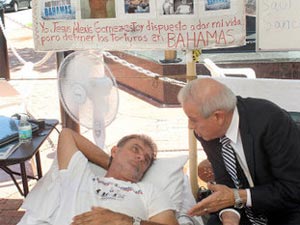 Lying on a stretcher in the heart of Little Havana, Ramón Saúl Sánchez, president of the Cuban exile group Democracy Movement, continued the seventh day of a hunger strike in protest of the alleged abuse of undocumented Cuban detainees in the Bahamas.
At his side: fellow activist Jesús Aléxis Gómez, who has been on a hunger strike for 14 days.
The exile group started protests in June in response to a cellphone video that purports to show Bahamian prison guards kicking detainees on the ground.
The protests have continued even though the Bahamian government, in a letter to U.S. Rep. Joe Garcia, D-Miami, agreed Friday to look into the detainees' conditions.
Sánchez, 58, said the letter was insufficient, mainly because the Bahamian government continues to call the video a forgery.
"If you don't recognize the problem, how will you find a solution?" said Sánchez.
Garcia said in a statement that "we continue to make daily inquires to the Bahamian government and will continue to do so until there is a satisfactory resolution to these issues."
The two activists lay under a tent in the Cuban Memorial Plaza in Little Havana on Thursday, surrounded by signs, jugs of water and groups of friends and supporters.
Among those who visited the pair on Thursday was Miami Mayor Tomás Regalado, who said he intended to use his personal money to help Democracy Movement with the $15 it must pay the city daily for a permit to continue using the plaza.
Regalado said he has known Sánchez as a friend for 25 years.
"I think what they're doing is a heroic act, and the Bahamas should heed their call," Regalado said. "But I'm worried about their health."
Sánchez has staged five hunger strikes in the past, one of which lasted 25 days and ended with him in a coma. He has since developed diabetes and, over the course of this strike, has lost 13 pounds.
Gómez, who takes credit for providing the detainees with the cellphones they used to record the controversial video, said he is willing to die if it will resolve the issue.
"My main objective is for the detainees to obtain their freedom," he said. "That's when my hunger strike will end. Otherwise I will die here."
By David Noriega
The Miami Herald