Concern Growing Over Pedestrian-Involved Accidents
August 19, 2013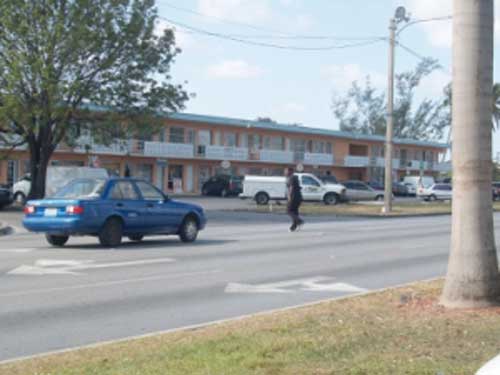 There is growing concern over the number of traffic accidents involving pedestrians, particularly with one of the three in the last few weeks proving fatal.
Another two pedestrians utilizing the crossing downtown narrowly escaped injury yesterday when two vehicles, that were travelling in the opposite direction and were supposed to be at a stop, breezed past them.
Philip Bethel, a 56- year-old pedestrian died weeks after he was struck by a silver 2009 Chevy Cobalt on Adventurer's Way and Murchison Drive on July 10.
He was recorded as the island's eighth traffic fatality.
The West Fig Corner resident was reportedly not far from home when the accident occurred.
He succumbed to his injuries on Saturday, August 3 at the Rand Memorial Hospital.
Police were then investigation an accident involving two men and a woman within days of each other.
A 47-year-old Hudson Estate man was struck around 5:30 a.m. last Wednesday in the area of the Grand Bahama Sports Complex.
Police say he was jogging on Coral Road when the 39-year-old male resident of a white and yellow 2004 Ford Crown Victoria collided with him.
Both were travelling in the same direction and, at last report, the victim was in serious condition in hospital.
Four days later, a 25-year-old Settlers Way woman and a 43-year-old Oates Lane man were in hospital after they were struck by a Ford Ranger.
The couple was attempting to cross Pioneers Way from the south side to the north around 9:57 Sunday night when the incident occurred.
A 55-year-old man was the driver of the white Nissan 2001 Ford Ranger.
The woman, who was earlier listed in guarded condition, was is in the Intensive Care Unit in critical condition, up to press time yesterday.
Her male companion is in stable condition in the Male Surgical Ward.
Yesterday, The Freeport News team witnessed as a woman and man, who were apparently travelling together downtown in the area of the Savoy Building, were almost struck by two separate vehicles.
The couple had made their way on to the brick pedestrian crossing and had attempted to cross south to north on Pioneerâ s Way when the male driver of a blue jeep utilizing his cellular phone whisked pass them.
As the two regrouped and made their way halfway onto the road, the newsteam observed as a black jeep, that was stopped at the crossing, suddenly took off barely making it pass the female who was ahead of her travelling partner, and then stopped.
It was clear that the male driver, who also appeared to be engaged with a cell phone, realized what had happened, stopped abruptly in the road, stared for a few seconds at the couple, who finally made it over safely and then looked back, and, without saying a word, eventually drove off slowly.
Days earlier, police had issued an appeal to motorists to be aware of pedestrians and those exercising on the streets of Grand Bahama.
Additionally, Police Affairs and Communications Officer Inspector Pinder asked those who were exercising on the streets during the early morning or late night hours to wear bright colored clothing while urging all road users to be vigilant.
By: Lededra Marche
Freeport News Editor