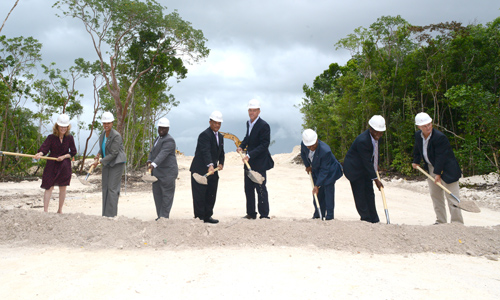 Mahogany Hill, a $23 million boutique hotel is being constructed by Mark Holowesko, investment advisor and businessman and owner of Mahogany House Restaurant, and his daughter Lauren at the site just outside Lyford Cay, Monday, August 26, 2013.
Prime Minister Perry Christie was on hand and he praised Mr. Holowesko for being a Bahamian investing in the hotel/tourism industry in the country.
The Prime Minister said, "This fine hotel will not only add to our tourism product, it is strategically located in a prime residential and business area and in close proximity to the airport where it will serve residents and business and leisure travellers alike.
"Much like his restaurant, the hotel will be a prime example to our local Bahamians of what can happen when you invest in your country.
"When you invest in your country, you can provide much needed jobs and entrepreneurial opportunities for fellow Bahamians," Christie said.
During construction, an average of 100 persons will be employed on site and the projected employment at the hotel will be a staff of 40 plus.
Shifting from his failed policy of building huge anchor resorts, the Prime Minister said that boutique hotels are necessary to grow and diversify the nation's tourism product and provide guests with a much more intimate experience and exposure to The Bahamas.
The Prime Minister said the boutique hotel is being positioned as a place for and in support of Bahamian arts.
Described as a cultural hub for the western end of the island, it will host art exhibitions, food and music festivals and theatre events.
It will bring a much-needed dose of cultural entertainment to this end of the island to both locales and tourists.
The new hotel will hold a collection of only Bahamian artwork on display throughout the hotel including works from John Cox, Maxwell Taylor and John Beadle.
The hotel amenities will include a spa, lap pool, bars, restaurants, tennis and sports areas, an aerobics studio and a theatre.
Mr. Holowesko explained that over the next 18 months, his team plans to build a world-class boutique hotel next to the restaurant that would hopefully complement the larger hotels that are being built on the island.
"We wanted to create a place that was modern in its approach but using the same traditional features that has made Mahogany House Restaurant a success."
He said, "We hope the hotel will be considered a guesthouse for the nearer communities with a distinctive Bahamian feel."
Photo Caption: A groundbreaking ceremony took place for Mahogany Hill, a $23 million boutique hotel being constructed by Mark Holowesko, investment advisor and businessman and owner of Mahogany House restaurant, and his daughter Lauren at the site just outside Lyford Cay, Monday, August 26, 2013.  Standing from left: former President of the Senate and Chairman, Bahamas Environment, Science and Technology Commission and mother of Mark Holowesko, Lynn Holowesko; Director, Investments, Bahamas Investment Authority, Joy Jibrilu; Deputy Prime Minister and Minister of Works and Urban Development Philip Davis; Prime Minister Perry G. Christie; Mark Holowesko; Minister of Tourism Obie Wilchcombe; Minister of State for Investments in the Office of The Prime Minister Khaalis Rolle and Opsrey Construction Ltd., Thomas Whitehead.  (BIS Photo/Peter Ramsay)