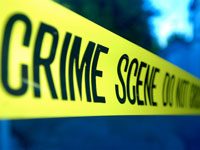 A 24-year-old man stabbed his mother three times after a row at their Coral Harbour home around 8pm on Thursday.
When police officers arrived they found a knife handle in the doorway of an upstairs bedroom along with a significant amount of blood on the floor.
Upon entering they found a woman and a 10-month-old baby lying in a pool of blood on the bed.
The 41-year-old woman appeared to have stab wounds to the left shoulder, thigh and hand. She was taken to hospital by ambulance where she was listed in stable condition.
Police arrested the woman's son, who was sitting outside on the lawn when they arrived.
This follows a recent incident  in which a young man raped his mother. Also, in recent news a young man beat a toddler to death.