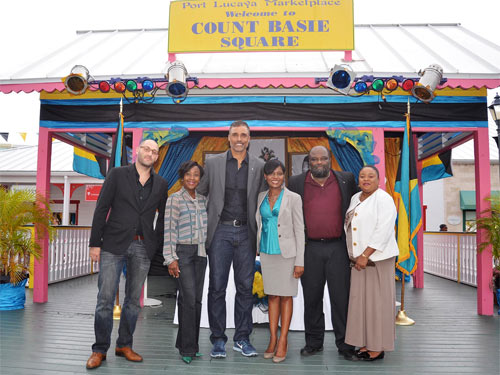 Former NBA stand-out turned actor, Rick Fox recently embarked on a fact-finding mission to Grand Bahama in his new role as a tourism and investment ambassador for the country.
The Bahamian-born star was ecstatic about his visit and recalled how his relationship with the island went way back to childhood when his entrepreneur father operated an outlet of his ice factory here.
"I've had a very fortunate career as an athlete and now it's time for me to continue to expand," Fox revealed. "This phase in my life now is about being more than just that basketball player.  It's nice to be here as a representative of a continued tradition of our family as businessmen."
On hand to welcome Fox was Ginger Moxey, Vice President, The Grand Bahama Port Authority, Limited (GBPA) who led the delegation in touring points of interest, including Port Lucaya Marketplace.
"We're thrilled to be able to showcase potential investment opportunities in Grand Bahama.  We've dialogued in the past but this visit allows us to present a firsthand glimpse of diverse areas available for development," stated Moxey.
A walkthrough of Freeport's premier shopping mecca highlighted the island's tourism, real estate and business potential. Drawing on over two decades in the entertainment industry, Fox was quick to point out possible linkages with the film industry.  He envisioned possibilities for Bahamian screenwriters to have their creative works exposed to a wider audience and for more films to be shot on location in The Bahamas, and Grand Bahama in particular.
"I think there's an unbelievable potential.  I want to shoot films in The Bahamas. That community is a small one that I am in support of growing," said Fox.
Since the beginning of the year, government officials, GBPA executives and Fox have partnered on joint marketing delegations to key cities in North America.  In January, they presented at the American Lodging & Investment Summit (ALIS) held in Los Angeles, California.  Following in May, they collaborated once again at the Caribbean Hotel & Resort Investment Summit (CHRIS) in Miami, and then at the recent National Association of Black Hotel Owners Operators and Developers (NABHOOD) conference held there in July.
NABHOOD President, Andy Ingraham accompanied Fox during his visit to Grand Bahama, and shares similar ideas and vision for development.  "As a fellow Bahamian, it's very important to us that we create partnerships.  It's important to be able to look and find opportunities that are ripe in The Bahamas and particularly ripe in Freeport.  So today, our goal is to look and see what the opportunities are," he expressed.
Whilst on island, the visiting group attended youth events in West End as guests of the Minister of Tourism and MP for West End, Hon. Obie Wilchcombe.  For Fox, the opportunity to interact with the children was immeasurable. "Someone was a beacon of hope for me, so I have to be a beacon of hope for someone else," Fox added. "I want them to know I'm human and Bahamian just like them.  I'm not this idea of something off in LA or New York somewhere.  I'm real and I'm here."  The visiting delegation also participated in social events with key stakeholders on Grand Bahama.
Summing up his visit, Fox stated that he was able to accomplish two main things – being able to give back to the youngsters and gaining an even greater insight as to what the island has to offer.
"The more I'm educated, the more I can carry the message and actually represent us," he reiterated as he now seeks to take his message to an even wider network of interested persons in his role as a tourism and investment ambassador.
The Grand Bahama Port Authority, Limited
Visitors and residents in Port Lucaya Marketplace (PLM) got a chance to see NBA star Rick Fox (centre) during his recent visit to Grand Bahama.  GBPA Vice President, Ginger Moxey (3rd from right) and PLM Entertainment & Marketing Coordinator, Karen Ferguson-Bain (2nd from left) were on hand to welcome him.