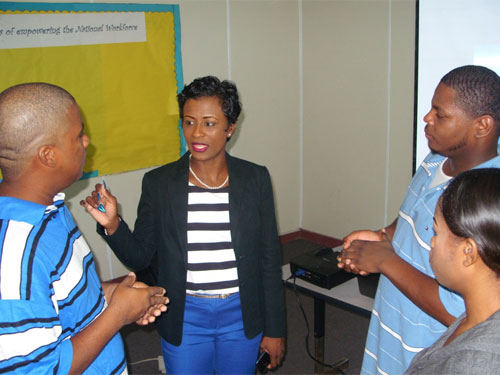 Students in their final semester at The Bahamas Technical and Vocational Institute (BTVI) are preparing to culminate the theory learned with a four-week intense internship.
During a recent internship seminar organized by the Students Affairs Department, BTVI Career Services Officer, Jessica Murray, noted that the students are expected to exude service excellence, with work ethics, presentation and deportment being key.
The 30 interns will each work for 40 hours a week, amounting to 160 hours for the four weeks.  They will receive professional experience at various organizations ranging from educational facilities to electronics and air conditioning companies and even as far as at Morton Salt in Inagua. They will have the opportunity to gain additional competencies, network and possibly secure jobs.
Mrs. Murray encouraged the students to be professional at all times while interning.  "You must be  open to learning and be quality candidates  as  it is possible to secure future employment with the company.  You must leave a good impression with the internship host," she underscored.
Before the internship comes to an end, BTVI's Student Affairs Department will also hold a Resume` Building Workshop to further prepare the interns for the competitive workforce.
The Bahamas Technical & Vocational Institute
READY FOR INTERNSHIP – Bahamas Technical and Vocational Institute's (BTVI) Career Services Officer, Jessica Murray, speaks to three of the students preparing for a four-week internship.  From left to right are: Jade Sands, Air conditioning; Mrs. Murray; Javano Johnson, Electrical Installation and Dariel Gibson, Business Administration.