Shark Attack Victim Praises Rand Medics
September 4, 2013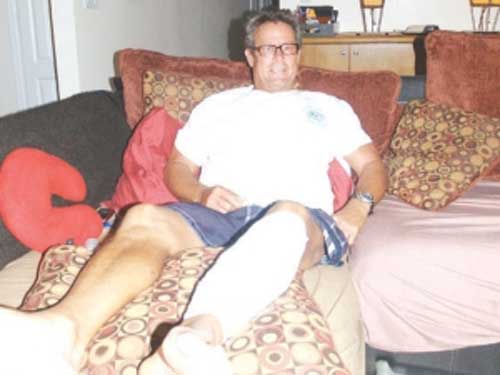 Bryan Collins happily sings the praises of the staff of the Rand Memorial Hospital and the rapid work done to save both his life and limb following a near death encounter with a blacktip Caribbean reef shark.
Collins, a marine captain with the Bahamas Air Sea Rescue Association (BASRA) for the past three decades, said he and his buddy John Stuart had been handline fishing in waters just off of Freetown Beach when he came face to face with the predator.
He said, "I went out in my boat on Saturday with John as it was a beautiful day and the water was crystal clear.
"We were handline fishing for about an hour and a half and caught quite a few snappers and an array of other fish. However, the fish stopped biting so I decided to put on my free diving equipment to spear some fish.
"Not far from my boat was a few hog fish which I took the opportunity to spear.
"I was able to get about three and put them in the boat.
"On my return into the water I saw a mutton fish which I was able to spear, no sooner had I let the spear go and it went into the fish and I tried to retrieve it then I felt the shark bite my leg.
"I still had my shooter in my hand which I used to bang the shark on the nose, it shook its head and spun off.
"Thankfully Stuart had the boat right there and I was able to swim up from my depth of 30 feet into the boat," said Collins.
Bleeding profusely with torn flesh and tendons exposed between the knee and ankle of his left leg, Collins said Stuart worked quickly to help him bandage his limb and slow down the blood flow as he tried to contact emergency services.
After several attempts unsuccessful attempts to reach emergency medical personnel, Collins called his wife Jackie who dialed 911 and explained her husband's situation to the operator.
"Once I got in the boat and saw how badly injured I was I told John we had to move fast because I was just bitten by a shark.
"He kept a very calm head and helped me dump out the contents of my First Aid kit to tend to my injury.
"We got the engine going once he got the anchor up and we made our way as fast as we could to the dock.
"I called 911 but without luck and had to call my wife and give her the details and she was able to get emergency medical personnel on the line and explain to them my situation.
"I told her I would be in Smith's Point in about 15 minutes mostly due to the speed of my boat and I arrived at the dock 20 minutes later.
"My wife along with other friends and family were at the dock and helped to tie the boat.
"During this time I remained on the boat and drank water and within 10 minutes the ambulance was there.
"The paramedics work quickly to remove the bandaging I had on and properly clean, treat and dress my wounds and get an IV (intravenous therapy) started immediately.
"They made quick work of getting me into the ambulance and they sped away to get me to the hospital.
"Thanks to them I was in the hospital within the hour I was attacked by the shark, my wife met me at the hospital and the doctors and nurse there took really great care of me.
"They undressed my wounds again, went into consultation to get the right doctors on my case, they prepped me, took me into X-ray and as soon as I got out of there they took me straight into the operating room and before you know it I was done," Collins said.
Grateful to doctors Corral and Clausen, the paramedics, nurse and other support staff members of the Rand Memorial Hospital, Collins said despite the circumstances surrounding his injuries he had a "wonderful" experience.
"I have incidents needing medical attention a few times and I traveled to the United States for treatment but nothing compares to the response and care given to me by the staff of the Rand Memorial Hospital.
"Not only did they save my life they have helped to safe my limb as well.
"In fact, according to the doctors they likened my injury to my leg having a run in with a chainsaw and are surprised I made it out of the water with it intact (in a loosely stated sense).
"Believe me when I say I got as good a care here at the Rand Memorial Hospital as I have ever gotten in United States.
"The nurses constantly checked in with me making sure I was comfortable, the doctors kept me updated as to my progress following the surgery and 200 plus stitches.
"The doctors revealed that I am doing well the only fear now is of infection however I am on very strong antibiotics to combat that," said Collins.
Asked whether this experience will keep him out of the water or stop him from spear fishing, Collins said "no" and revealed he will be back to his regularly scheduled program once his recovery is complete.
He said, "I honestly believe the shark did not intend to attack me it was just a situation where I stood in the way of him getting to the fish I speared which he had caught the scent of and was able to enjoy.
"Normally during this time of year the water is warmer so sharks tend to be in shallow waters and they do not usually attack people.
"This incident will not stop me, I will be back in the water and I intend to show my gratitude to the staff of the hospital by giving some of my catch to the paramedics, doctors and nurses that dealt with my case." Collins revealed.
Facts about the blacktip Caribbean reef shark:
*The blacktip shark (Carcharhinus limbatus) is a large, stout shark, with a long, pointed snout and small eyes.
*Its torpedo-shaped body, grey or grey-brown on the back and white on the belly, allows it to cut easily through the water, and a conspicuous white stripe runs along the
flanks.
*As its name suggests, the pectoral fins, the second dorsal fin and the top part of the tail fin have black tips. The first dorsal fin and lower part of the tail fin are usually edged with black.
*The fast-swimming blacktip shark is an active fish that can be seen leaping out of the water and spinning before dropping back into the sea.
*This agile spinning behavior, is thought to be used while feeding on small schooling fishes, such as herrings or sardines.
*The sharks propel themselves vertically, up through the school, spinning and snapping in all directions until they breach the surface.
*As well as feeding on schools of small bony fish, the blacktip shark occasionally preys on squid, cuttlefish, octopi, crabs and lobster.
*Blacktip sharks often occur in large schools, which with their highly energetic temperament, can result in competitive feeding frenzies when confronted with immense shoals of fish or the waste of a shrimp trawler being dumped overboard.
*The blacktip shark is classified as Near Threatened (NT) on the IUCN Red List.
By: Sharell Lockhart,
Freeport News Reporter