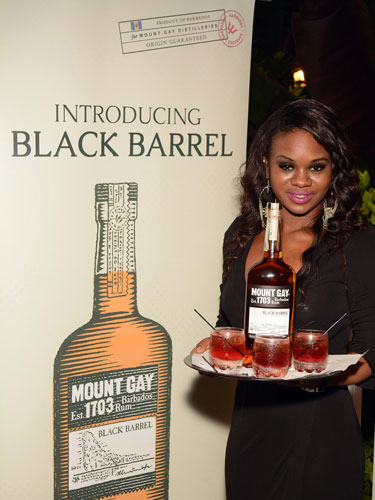 It's been called the Bentley of rums, the crème de la crème of the sweet-tasting, tongue-loosening libation, the stuff of which lore about pirates and legends about love are made. And this week, Mount Gay introduced its newest entry into the market, Black Barrel, during high-end events at the Caribbean's first 5-star restaurant, Graycliff, in Nassau and Rum Runners Restaurant in Marsh Harbour Abaco.
On hand were sippers on a mission — to taste the latest liquid delicacy in the Barbados-bred and famous rum family and welcome it to The Bahamas.
The release of Black Barrel also helped Mount Gay, the granddaddy of grand rums, celebrate its 310th anniversary. In The Bahamas, the brand is distributed exclusively by the Burns House Group of Companies which hosted the October 17 event.
"Burns House is proud to introduce Black Barrel to the Bahamian market. We firmly believe in this  brand created by our Caribbean brothers," Jena Messam, Mount Gay Brand Representative for Burns House.
Mount Gay rums from Barbados are made from the molasses of fresh green sugar canes and naturally coral-filtered water with a blend of single column and double copper pot distillates, matured in toasted oak barrels. The new Black Barrel contains a higher proportion of double distillates and, after hand selection by Master Blender Allen Smith, Black Barrel is the only Mount Gay rum finished in charred bourbon oak barrels, giving the product its name. The result is a bold tasting rum with notes of pepper, spice and wood that provide outstanding body and fullness. To the nose, Black Barrel is a blend of fruit, oaky vanilla, and coffee.
"Drinking Mount Gay makes you stand out. It's like driving a Bentley, it's the best.  There are only a few people who understand this, be one of those people," charged Chesterfield Browne, Mount Gay International Brand Ambassador and Mixologist, speaking to guests during a tasting session, including Philippe Sahnoune, Executive Assistant Manager at the Lyford Cay Club.
"The event was wonderful. I definitely enjoyed the tasting demonstration and the explanation behind the complex flavours behind Black Barrel," says Sahnoune. "We will definitely be purchasing Black Barrel to serve to our club members."
Local bartenders and sales representatives were treated earlier in the day to training sessions discussing the history of Mount Gay, the meticulous process of making the rum they boast of and also got an opportunity to create their own Black Barrel cocktail that told a story. In the coming weeks, Burns House will host a tour of tastings at select bars and restaurants in New Providence and Abaco.
Diane Phillips & Associates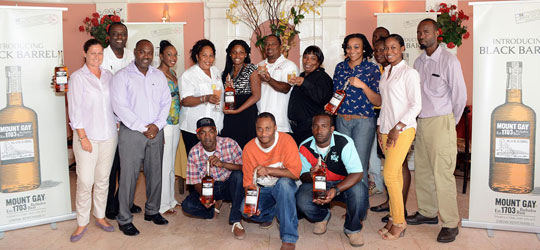 Caption: Group photo: Mount Gay local and international representatives Jenna Messam, Chesterfield Browne and Pascale Sold Rangel pose with Burns House Sales representatives and bartenders from Burns House and The Trade at a Black Barrel training session.
Caption: Photo at top: Nico Pinotsis, Managing Director at Burn House Limited entertains guests at the Black Barrel launch at Graycliff in Nassau. (L-R Alexandra Maillis-Lynch, Events By Alexandra, Clay Saunders, Old Fort Bay Club, Nico Pinotsis, Managing Director, Burns House Limited and Therese Demeritte, Wine Representative, Burns House Limited)