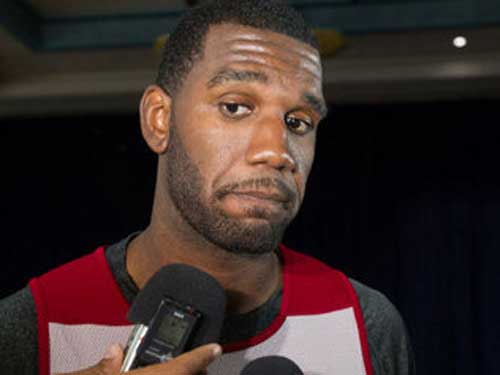 Former number one overall pick Greg Oden's journey back to the NBA has been a slow, painful, uphill battle.
But at least now he's on a roster worth fighting for.
Oden, who hasn't played in an NBA game since December 2009 and has only played 82 games in over 4 years, arrived in the Bahamas for training camp with the Miami Heat, who signed him for the league minimum as a free agent over the summer.
"I can run," Oden told Fox Sports. "The past three years, I haven't been able to do that. … I've got a lot to prove to myself. I've been rehabbing for three years. … It's been a long road."
There's no guarantee that his time with the Heat will end better than his days with the Portland Trail Blazers, who made him the No. 1 pick in 2007.
"I've got to go through training camp and make sure my body holds up. If the knee holds up, I would hope they will let me play in the preseason," Oden said.
He participated in about half of the Heat's practices this week.
"It felt good just being out there," Oden, who hasn't been cleared for contact, according to the Sun-Sentinel."First time in a while, I'm happy I got it completed. They had to pull me off the floor. But I've got to take steps."
"It's step by step, practice by practice, minute by minute," Coach Erik Spoelstra said. "So he was able to do about a half-hour of work today, the majority of it non-contact, and that was a big bonus and we'll move on from here."