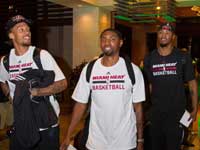 If the goal was to dodge the media, then the Miami Heat have their first loss of the season, with one of the largest media turnouts in years greeting coach Erik Spoelstra for Tuesday's opening session of training camp at The Atlantis Paradise Island Resort.
"Hopefully, after today, we'll lose some of you," Spoelstra quipped. "Even still, we like the environment."
If the goal was to create Bahamas buzz, then this trip to Nassau already has paid its dividends.
"When we showed up on the plane [Monday] night," Spoelstra said, "they had a mini-parade and band waiting for us. It was pretty cool."
Drawing a swarm of local media commensurate to anything they would have handled at AmericanAirlines Arena, the Heat very much found themselves amid a champion's welcome.
"When the bus was passing last night, everyone was waving," Jeffrey Rodgers, a marketing director for the Bahamas' sports ministry, said. "It is a big thing for the country."
The players immediately got that sense.
"It was great to be welcomed like that with open arms to the island," LeBron James said. "I thought it was pretty cool. We're humbled by it."
While track and field remains the islands' ultimate sports passion, "we have a lot of
Miami Heat fans here, including myself," said Eldece D. Clarke.
If that name sounds somewhat familiar, it's because James, Dwyane Wade and Chris Bosh aren't the only Olympic gold medalists circulating at the ballroom-turned-court at Atlantis. Clark won gold for the Bahamas in the 4-x-100 track relay at the 2000 Sydney Games, as well as silver in the event at the 1996 Atlanta Olympics.
"Here you have fans of either the Miami Heat or the Los Angeles Lakers," she said of the islands' NBA loyalties.
To a degree, history still trumps proximity.
"There's lots of Lakers fans here because Mychal Thompson is Bahamian and also Rick Fox," she said. "That's when the Bahamians got even more interested in the sport of basketball."
"They left their presence," Rodgers said."When Mychal won his first championship ring, the Lakers did a float here in the Bahamas for Motorcade. It was huge. The whole city was out."
They're out again, although security is typical Heat in nature, plenty of men in black escorting players from their private-building sanctuary to the shuttle vans to the makeshift practice courts.
"It's an opportunity for us to spend a lot of time together this week, a lot of meals, a lot of bus rides, in a place and environment our guys can enjoy at least the scenery outside the gym, to and from," Spoelstra said."But we're here to work. They understand that. Our guys are very mature about this. At the same time, they can understand it's a little bit of a mental reward."
Bosh said there is a limit to what can be soaked in.
"We know what it is," Bosh said. "I think a lot of our friends and family thought it was going to be something else. When you hear, 'Bahamas,' you automatically relax. We just hear, 'training camp.' We know we're here to put in work."
It is rare for a team not playing an international game to be cleared for international training.
"We've already got other teams wondering why it is that they can't come," Rodgers said. "So the feedback is very positive."
Twin regulation courts have been assembled for the week in the facility's conference center, placed above the surrounding carpet, walled off by dark-blue curtains. There is theater lighting in place, with the courts marked "Battle 4 Atlantis," the annual college-basketball event that last season featured eventual national champion Louisville.
"Spo came and stole my idea," quipped Wade, who annually stages his South Florida adult fantasy basketball camps in hotel ballrooms, including at the Diplomat in August.
"It's amazing what they do here," Spoelstra said. "We saw what it looked like empty about a month ago, and it looked nothing like this. It was cavernous. To even imagine how they could put the courts down, make it look comfortable for us, they've done a terrific job."
And are proud of it.
"The Bahamas," Rodgers said, "is a country where we welcome everybody."
By Ira Winderman
South Florida Sun Sentinel